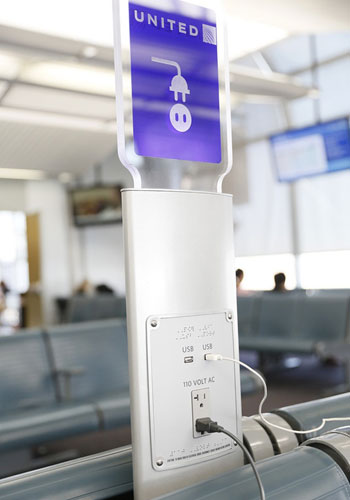 In response to the high number of passengers travelling with smartphones, tablets, laptops and gaming devices, United Airlines is installing hundreds of charging stations across many of the airports it serves in the United States.
More than 110 of the charging stations are being installed at Chicago O'Hare International Airport's Concourse B and C, while more will also be added at the airline's Houston, Los Angeles, Newark and Washington Dulles hubs in the coming weeks.
New York LaGuardia and Louis Armstrong International Airport in New Orleans will also have them fitted.
Each of the charging stations includes six, 110-volt power outlets and two USB ports, so a range of devices can be charged simultaneously.
Jimmy Samartzis, Vice President of Customer Experience, United Airlines, said: "Our customers have told us they depend on their electronic devices to stay productive and connected at 35,000 feet, and that requires a full battery.
"From installing charging stations to expanding access to in-seat power and Wi-Fi, United is working to deliver a more flyer-friendly travel experience for our customers."