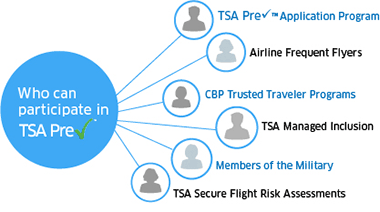 Air Canada has become the first international carrier to join the Transportation Security Administration (TSA) PreCheck programme for expedited security screening.
The development means travellers flying with the Canadian carrier are able to register for PreCheck, which allows them to complete the airport security process without having to remove their shoes, jackets and belts, and without removing their laptop from its case.
Jeh Johnson, Secretary of Homeland Security, said: "I thank Air Canada for working with TSA to become the first international carrier to offer TSA PreCheck. This action underscores our commitment to easing the traveller experience, while maintaining the highest standards of security."
Benjamin Smith, Executive Vice President and Chief Commercial Officer at Air Canada, added: "Air Canada is delighted to be the first international airline to offer TSA PreCheck, accelerating the security screening process for eligible customers at most of the US destinations served by Air Canada. Air Canada serves the most passengers with the most daily flights of any non-US carrier in the United States. TSA PreCheck will make our customers' travel experience with us even more enjoyable, including those connecting through our main hubs in Toronto, Montréal and Vancouver to international destinations in Asia and Europe."
A total of 10 airlines now participate in TSA PreCheck: Air Canada, Alaska Airlines, American Airlines, Delta, Hawaiian Airlines, JetBlue, Southwest, United, US Airways and Virgin America.