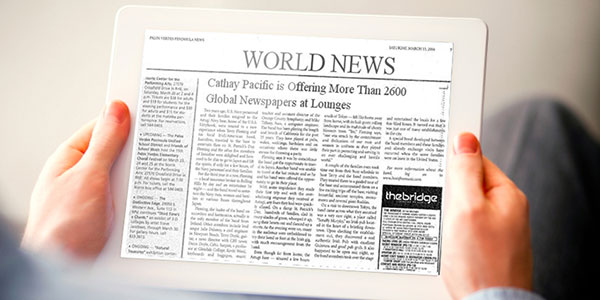 Travellers who visit Cathay Pacific Airways' lounges at Kong Kong International Airport (HKIA) can now access digital newspapers and magazines via their own personal electronic devices.
Using the complimentary Wi-Fi network in the lounges, passengers can view content from more than 2,000 titles, including the Financial Times, Hong Kong Economic Journal, International New York Times, South China Morning Post, The Washington Post and Le Monde.
Toby Smith, General Manager Product, Cathay Pacific Airways, said: "We want to ensure that our passengers feel connected, informed and entertained. Our aim is to take advantage of the latest technological solutions to provide the most up-to-date information to our most premium passengers in our lounges.
"Newspaper streaming is just one example of how digital offerings can enhance the overall passenger experience. Currently it is not possible to make a wide selection of local and international printed newspapers available for international passengers travelling from all corners of the world, and newspapers are occasionally out of date by the time they are in our passengers' hands. However, this digital solution will enable us to deliver up-to-date publications direct to passengers' personal electronic devices in a very convenient way."
Access to the digital portfolio of newspapers and magazines will initially be available in HKIA's The Wing, The Pier, The Cabin and The Bridge lounges, before being rolled out to the G16 lounge. Cathay Pacific also intends to introduce the service in a number of lounges at airports in other countries.