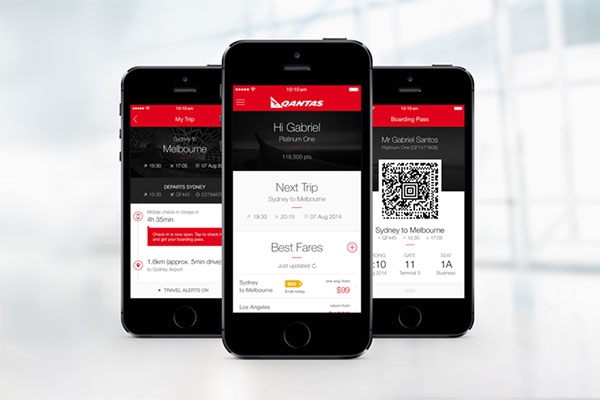 Qantas has released an upgraded version of its iPhone app, which has been designed to simplify the end-to-end travel experience for passengers.
The app, which is optimised for iOS7, delivers real-time information to passengers and makes recommendations depending on which stage of the journey the passenger is at.
For example, the app recommends the best method of check-in – mobile, online or airport; it lets travellers know what time they will need to leave for the airport based on their current location; it provides the best route to the airport based on real-time data from Google Maps; and it provides flight alerts.
When the passenger is in the airport terminal, they can use the app to find out which lounges they have access to and how to get to them; view up-to-the minute flight information; find out which gate they are boarding from; and access personalised travel offers and discounts. Then when the passenger arrives at their destination airport, the app informs them which carousel to collect their bags from. As per the previous version, the app can also be used to book flights and hotels, and access frequent flyer accounts.
Lyell Strambi, CEO of Qantas Domestic, commented: "Our customers wanted to be able to see at a glance when they need to check-in, leave for the airport or head to the gate. They wanted an even simpler way to check-in, and greater access to up-to-the-minute departure information. The latest version of the Qantas Airways app delivers on this."