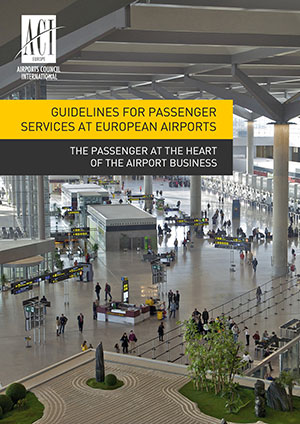 In recognition of the rise of the "empowered passenger" and the trend of airports more commonly "firmly putting passengers front and centre of their strategy", ACI EUROPE has launched its comprehensive 'Guidelines for passenger services at European airports' – a practical guide to help airports identify and implement passenger-focused improvements.
Here at FTE, we strongly support all initiatives that are created with the passenger at the forefront of their development, and we encourage all airports – not necessarily just those in Europe – to pay close attention to this document, which includes input from a number of passenger-focused organisations, such as Finavia, SEA Aeroporti di Milano, Swedavia, Amsterdam Airport Schiphol and Zurich Airport. Having studied the 120-page document in depth, here we highlight a selection of the key points and recommendations on how airports can work to improve the experience they provide to their customers.
'It is all about providing the best airport experience'
Firstly, the relevance of prioritising the passenger experience is something that airports quite simply cannot afford to ignore – a point emphasised by both Arnaud Feist, President of ACI EUROPE and CEO of Brussels Airport, and Olivier Jankovec, ACI EUROPE's Director General.
"Putting passengers front and centre of our strategy is a major imperative for airports across Europe," Feist explains. "The digital revolution has empowered the passenger, and with competition between airports now a firm reality, it is all about providing the best airport experience.
"This involves looking for more efficient processes, using an ever-increasing array of communications platforms and coming up with creative and innovative concepts to inspire."
Jankovec also highlights the role of increased competition in inspiring passenger experience enhancements. "Independent analysis has shown that over 65% of passengers now have a choice of two or more airports they can fly from – proof of how much airports are competing with each other." This, he says, means airports have moved form being B-to-B businesses to B-to-C, customer-focused businesses.
Closer collaboration required
In keeping with FTE's view on the importance of closer collaboration between all travel industry stakeholders to improve the end-to-end passenger experience, the guidelines rightly call for "closer cooperation between all stakeholders in the air transport chain". Importantly, it states that Airport Managing Bodies are key to ensuring such cooperation exists, and among the recommendations worth reinforcing is that these management bodies, in consideration of their relationship with subcontractors, must clearly define terms such as the level of quality to be achieved; in terms of passenger throughput, security processing, training material for PRM assistance providers, number of staff and attendance, or the way to better service the passenger.
If nobody takes responsibility for ensuring these standards are set and met, the inconsistency across the airport experience will inevitably have a negative impact on the passenger experience.
Three key passenger experience trends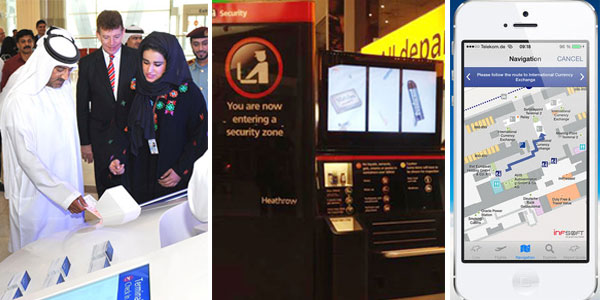 According to the guidelines, three clear broader trends will greatly impact the passenger experience over the next few years: passengers will be more informed, they will want to enjoy a more personalised experience and they will be far more empowered.
A number of recommendations are put forward on the areas in which Airport Managing Bodies should provide accessible, real-time and accurate information to passengers, including flight information (including delays), gate information (including directions and distance to them), baggage claim information, airport operations information, legislation in force, and signage and wayfinding.
Here at FTE, we continually cover each of these areas extensively, and a few examples of good practice can be highlighted. For example, the Frankfurt Airport App 2.0 offers real-time flight updates, the likes of Dubai Airports and Oslo Airport offer self-service kiosks that provide directions to boarding gates, and Heathrow Airport has recently trialled innovative "glasses-free 3D" screens highlighting the security legislation that passengers should be aware of.
However, while these examples highlight the fact that some airports are actively working to make real-time, easily accessible information available, we agree with ACI EUROPE's standpoint that more needs to be done on a wider basis to keep passengers informed and empowered.
What do passengers require, expect and value?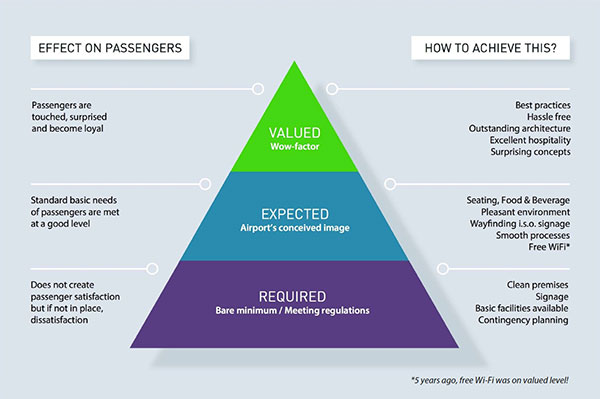 Being able to recognise what passengers require, expect and value is also highlighted as a vital aspect of enhancing the passenger experience, because "the minimum level may not be enough" to create a positively differentiated airport experience.
The "valued" aspect of the above chart is where true passenger experience improvement lies. The document states: "The valued level consists of services that surprise passengers in a positive way", and this generally requires a "wow factor" to impress the passenger. ACI EUROPE highlights dynamic signage or guidance via personal devices as services that can add great value. For us, an apt example of creating a wow factor is Christchurch Airport's Sensory Arrivals Experience.
However, the guidelines rightly point out that things that currently fall into the "valued" category may not necessarily stay there for long – they can quickly become expected or required by passengers. "Free and fast Wi-Fi offered by the airport is highly valued at the moment, but is becoming an expected norm for a good airport."
The '3P' approach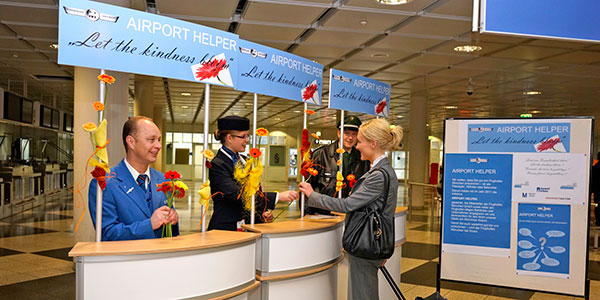 According to the ACI EUROPE guidelines, the passenger experience is formed by the contents of the '3Ps' – premises, processes and people, each of which must be given great attention to ensure they effectively contribute to the overall passenger experience. The document states:
The design of the premises needs to be functional, but also needs appeal for the customer and to provide good ambience;
The processes at the airport must run smoothly, avoiding unnecessary steps along the way and be predictable without major negative surprises;
Service is always provided by people to other people. Even with the introduction of self-service in different phases of the process, Airport Managing Bodies must acknowledge the need for touch-points where staff assistance is needed and welcomed. Airport Managing Bodies must treat passengers with respect, taking into account cultural differences and the needs of different passenger personalities.
As for premises, intermodality, short walking distances in the terminal, natural wayfinding, predictability, ambient terminal exteriors and surroundings, interior design principles, décor, cleanliness and maintenance are highlighted as having important roles to play in creating an ideal passenger environment.
In terms of processes, the guidelines state: "Assuming that the passenger experience is a driver to plan investments and to design passenger services, measuring the effects on any action completed becomes necessary". In other words, implementing a passenger-focused solution just for the sake of it is not enough; airports must ensure that they make a tangible difference to the actual passenger experience. Measuring passenger services, accurately defining key performance indicators, and benchmarking against other airports are all effective means, when implemented correctly.
Improving airport security for passengers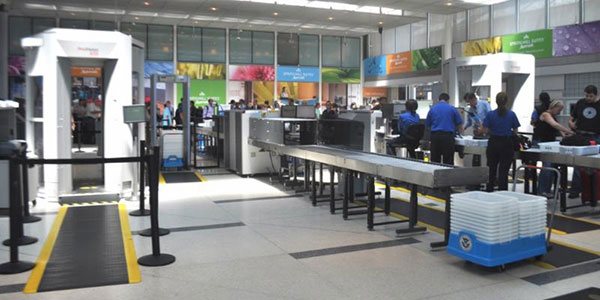 Particular attention is given to the airport security checkpoint, with a number of recommendations put forward, which can help to improve the process from a passenger point of view. These are:
Allow for a smooth flow of passengers with the aim of getting passengers through as quickly as possible;
Be designed to accommodate peak passenger flows to meet required service level agreements, while allowing for traffic growth;
Be enhanced by ambient lighting and the use of different coloured screening equipment to make the area less sterile looking;
Allow for sufficient space for divestment and re-packing;
Use mature and cost-effective technological developments to reduce the amount of divestment for the passenger (security scanners) and their cabin baggage (advanced cabin baggage systems);
Where space allows, create family-friendly/PRM checkpoints or lanes with appropriate fittings;
Take into account the possible introduction of "low-risk" lanes for trusted travellers requiring a different equipment set-up.
Again, FTE is very supportive of each of these recommendations, many of which are aligned with the FTE Airport 2025 Think Tank's vision for a streamlined airport security process.
In reference to the third of the '3Ps', the guidelines state: "To be able to add true value for passengers, all stakeholders must cooperate and work together with the same goal; a good passenger experience. This is a window of opportunity for all people working at an airport – being part of the creation of a friendly and proactive interaction with the passengers."
Dedicated Airport Helpers are put forward as a useful tool in this area, and Munich Airport, which employs 44 Airport Helpers, provides a useful example, as Thomas Penner, the airport's VP Terminal and Passenger Services, recently explained to FTE.
Using new technologies to improve the passenger experience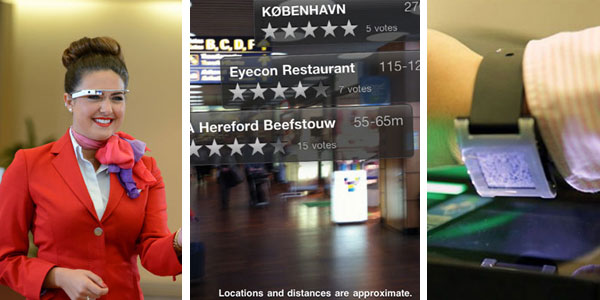 The final core element of the guidelines focuses on the new technologies that airports can use to help improve the airport experience for passengers. Airport apps for smartphones, the use of augmented reality to assist passengers in the terminal, wearable technology (such as Google Glass and Sony Smartwatches trialled by Virgin Atlantic) and Near Field Communication (NFC) technology are highlighted as technologies that can be used directly by passengers while in the airport.
As for technologies that can be used by airports themselves, Bluetooth, Wi-Fi and video geolocation for crowd monitoring are referenced, while Radio Frequency Identification (RFID)-enabled baggage tracking also possesses potential.
Five key conclusions
While FTE recommends that airport employees tasked with improving the passenger experience take the time to read the full document, the 'Guidelines for passenger services at European airports' closes with five conclusions that can together help to shape the passenger experience:
Categorise, identify and segment you passengers
Know you airport. Define your cluster
Benchmark with comparable airports and focus on Premises, Processes and People where you have: a) Larger gaps, b) Higher control, c) Higher stress levels
Analyse the status of your pyramids and ensure Required, strengthen Expected and find your Valued (wow) factors
Shape solutions. Don't miss any of the 3Ps (Premises, Processes and People)
Here at FTE, we hear about airports implementing new services and systems aimed at improving the passenger experience on a daily basis, and we are fully supportive of all of these efforts. However, there is still a long way to go to get to a point where travellers can leave home and actually expect their airport experience to be smooth and even enjoyable, which is why we feel these guidelines from ACI EUROPE should be highly valued by airports across Europe and beyond.
FTE is dedicated to playing an important role in helping to define what the passenger experience of the future should be through our media, events and Think Tank efforts, but we are fully supportive of all external efforts that are developed for the benefit of passengers. If you work for an airport and have a level of responsibility for your passengers, we recommend that you not only read the guidelines in detail, but start work on implementing at least some of the recommendations to help make the airport experience seamless and stress-free for your most valuable asset – your passengers.
» The complete 'Guidelines for passenger services at European airports' can be downloaded from the ACI EUROPE website.
The theme of FTE Global 2014, which will take place in Las Vegas from 24-26 September, is 'Redefining the end-to-end passenger experience', and the event will play host to the FTE 'On the Ground' conference, a key element of which will focus on improving the airport experience for passengers.
»More information on FTE Global 2014
»Register to attend FTE Global 2014