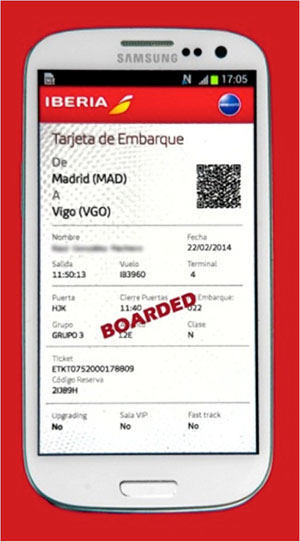 Spanish carrier Iberia and technology giant Samsung have signed a Memorandum of Understanding to jointly develop and promote a variety of Near Field Communication (NFC)-based solutions to help simplify the airport experience for passengers.
As part of the agreement, Iberia passengers who check-in online will have the option of receiving their boarding pass on their NFC-enabled smartphone. The boarding pass would be stored on the SIM card within the smartphone, meaning passengers can use their mobile device to access the security area or board their flight using their mobile, even if it is switched off.
Iberia and Samsung – the latter of which recently delivered the keynote address at FTE Europe 2014 – will also explore how they can use SIM-based NFC to allow passengers to enter airport lounges and receive personalised airport and flight information at the airline's Quick Service Points.
The partners are pursuing NFC due to the fact that the reading process is faster than the current optical barcode readers, which will help to increase processing times and reduce queues at checkpoints across the airport. Further down the line, they will work together to explore how NFC can be used to improve baggage processing and onboard services.
Dimitris Bountolos Montabes, Director of Customer Experience, Iberia, commented: "With this agreement, which unites the world leader in the field of digital technology, we are once again pioneering a project that will substantially improve the travel experience for our customers through significant time savings."