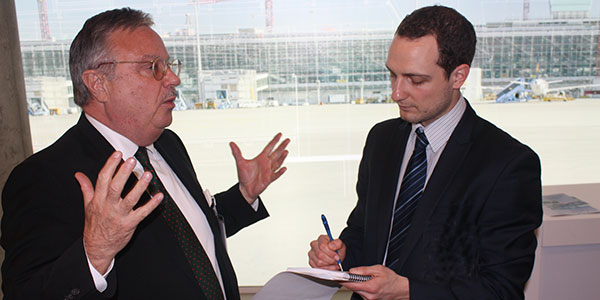 Construction of Munich Airport's new midfield terminal building – a state-of-the-art satellite facility for Terminal 2 that will provide capacity for an additional 11 million passengers a year – is ongoing, but the major project has failed to distract the airport from its efforts to improve the experience for passengers travelling through its existing facilities.
As it aims to cement its reputation as one of Europe's leading airports, investment in new technology and modern facilities continues. For instance, the official Munich Airport app is frequently updated to ensure travellers can get the most possible value from it; InfoGates are in place across the airport, allowing travellers to interact with offsite agents; and a new, free-to-access Recreation Area was inaugurated in April this year.
However, speaking to Thomas Penner, the airport's Vice President Terminal and Passenger Services, it quickly becomes apparent that the Bavarian hub's highly regarded passenger experience is the result of far more than just investing in innovative technologies and headline grabbing lounges. In fact, at the heart of the experience is something that sometimes threatens to be overlooked as airports embrace self-service en-masse: the people.
New technology and traditional customer service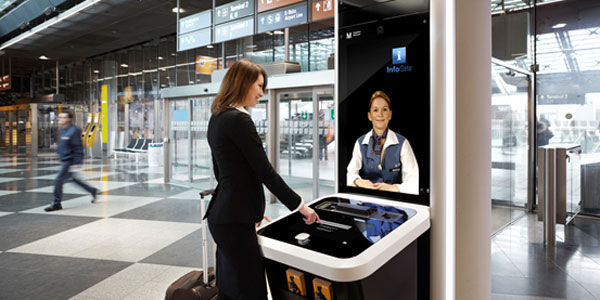 For a progressive airport like Munich Airport, it might seem unusual to employ more passenger-facing agents when the general trend is to work out how to cut down on the number of directly employed staff. In Penner's own words, Munich Airport's approach is "something new and something old fashioned", and it seems to be paying dividends, especially as Munich Airport was named 'Best Airport in Europe' in the 2014 SkyTrax Awards.
"We now have more people employed in the check-in area, more airport staff," Penner told FTE. "We have around 44 people employed in this area, so there is always someone to talk to if you have any questions in the departures area. You cannot replicate this model with just self-service and offsite agents."
The Airport Helpers, who are trained by the airport company, work in addition to the passenger-facing staff employed by the airlines, and their purpose is to remove any uncertainty that travellers may experience in an airport terminal. Penner continued: "We train them specifically and they all have to know the basics of the airport. For example, even if a passenger talks to a member of retail staff, they should be able to answer basic questions, such as 'where is the gate?' or 'where are the toilets?'"
Tailoring the passenger experience for different nationalities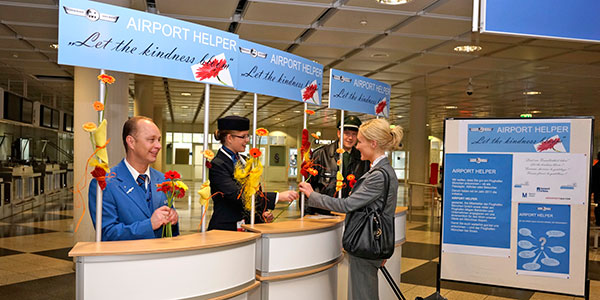 The role of face-to-face customer service goes beyond simply knowing the basics, however, and Munich Airport is investing in getting to know the different passenger groups better. Rather than encouraging employees to treat all travellers the same, the focus is on recognising the key cultural and regional differences that are often shaped by a passenger's nationality.
"We want to achieve a complete improvement of passenger services, so we focus on the origin," Penner said. "For example, if you're from the Middle East you will have different needs – and we have lots of these passengers now that we have double-daily services from Dubai, Abu Dhabi and Doha. So, we have people on hand who are fluent Arabic speakers, we have prayer rooms, halal foods, we advise them on the local customs processes so there aren't any problems with the border police. A European is unlikely to be carrying €10,000 in cash, but it's not as uncommon for a passenger from the Middle East, so we make sure they know they have to declare it."
And the special treatment is not just for Middle Eastern travellers. Penner continued: "We're creating a Russian gateway and in Russia the airport rules are different – for example, you have to check-in longer before the flight – so we're now talking to our airlines and ground handlers to see if we can bring the services in line with what they are used to." This point is particularly noteworthy – not only is Munich Airport making every effort to educate passengers before and during their journey, but it is even exploring the option of adjusting its own processes to better suit specific passenger types.
Penner himself is clearly convinced that this flexibility, along with the effort being made to recognise passenger needs based on their origin, is helping Munich Airport create a simpler and more personal airport experience for each of its passengers, and its third-place position in the 2014 'World's Best Airport' rating appears to back this up.
While new technology has a clear and vital role to play in taking the passenger experience to the next level, the example of Munich Airport suggests no airport should underestimate the continued effectiveness of face-to-face service. The combination of "something new and something old fashioned" appears to be a winning formula.
At FTE Global 2014, Thomas Penner, VP Terminal and Passenger Services at Munich Airport, and Chairman of the World Airport VIP Forum, will chair Part 2 of the Enhancing Premium Passenger Experiences Forum in which he will deliver a presentation entitled: 'How are the demands of premium passengers on the ground evolving?'