As soon as international passengers depart the aircraft at Christchurch International Airport, they can expect to experience a multi-sensory journey, which is designed to reflect New Zealand's South Island, for which the airport is the main point of entry for international visitors.
The unique arrivals experience starts in the airbridge corridors, where specially commissioned floor-to-ceiling photographs highlight four separate regions: the West Coast, Abel Tasman National Park, the Mackenzie Country, and the Antarctic, while a soundtrack of the environment and evocative smells of the region also feature.
Passengers are then guided into the terminal building by wall graphics, which represent the braided rivers of Canterbury, with water fountains also offering Canterbury's famous artesian water.
"For us, this is a way to let people know they have arrived at a very special place," explained Jade Reeves, Christchurch International Airport Limited (CIAL) Marketing Manager, who was the instigator and driver of the project. "It also makes the arrivals experience more positive and peaceful."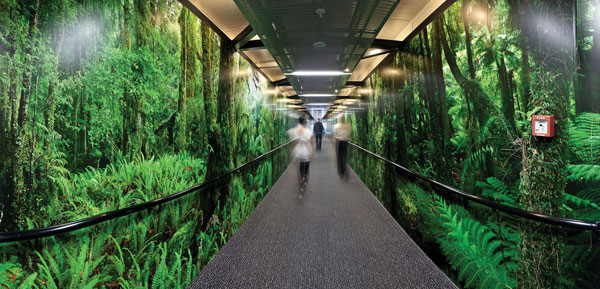 Relaxing Arrivals Experience
While passengers queue in the Customs area, they can watch a video presentation of the South Island's natural environment on Australasia's largest video wall, which comprises 54 seamlessly linked screens. Even the baggage reclaim hall is designed to reflect the destination through seasonal imagery.
According to Reeves, the project, which took 18 months to complete, has received a positive response from passengers since its unveiling in late December, and has succeeded in making the "passage of travellers through the airport a more interesting and relaxing experience".
Furthermore, the installation of the Sensory Arrivals Experience has had a positive knock-on effect for the region's tourism industry, which is recovering following the damage caused by February's earthquake.
"Travellers are so inspired that they come to our Travel and Tourism desks, where travel and accommodation can be booked, and request to have a trip to exactly the place they have just seen on the airbridge, or along the walkways, or in the Customs area," Reeves explained.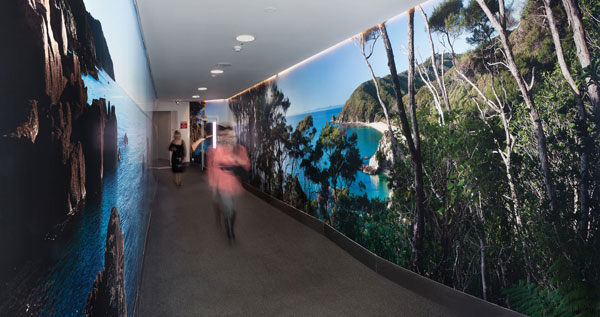 New Terminal, New Technologies
Christchurch International Airport's development project to enhance the passenger experience has been ongoing since 2006 and the next stage will see the introduction of a brand new integrated terminal, due for completion later this year. The single facility will replace the domestic terminals and the international check-in hall, while common-use infrastructure will be implemented to enable shared check-in facilities to be utilised by a number of airlines.
As well as combining the domestic and international check-in counters and kiosks, the international and domestic baggage reclaim areas will also be expanded, along with the Customs area for international arrivals, all of which are aimed at providing an enhanced passenger experience.