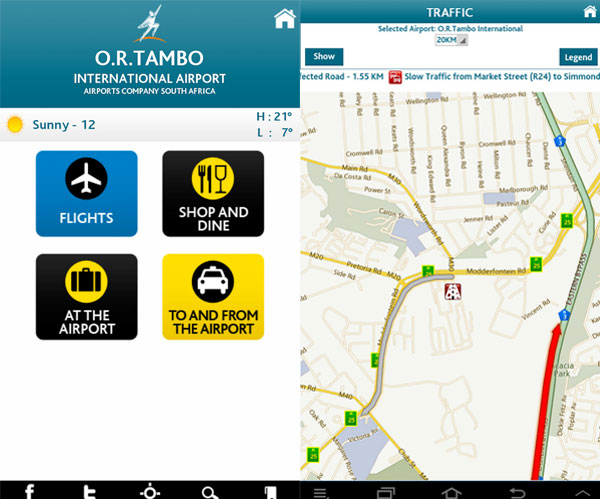 Airports Company South Africa (ACSA) has launched a new smartphone app for its portfolio of nine airports, including O.R. Tambo, Cape Town and King Shaka international airports.
Developed for Android, iOS and BlackBerry devices, the ACSA app includes a number of features designed to simplify the travel experience for passengers, including synchronisation with the Gautrain (rapid rail) timetable for passengers travelling to Gauteng.
Travellers can also use the app to search for flights and check-in, view maps of the terminals and directions to airport facilities, calculate the cost of airport parking, and read up on the airports' restaurants and retail stores. The app also offers traffic updates for those driving to and from the nine airports, as well as contact details for airlines, taxi companies and car rental companies.
Tebogo Mekgoe, Chief Operating Officer, ACSA, said: "We believe that the airports app enables our business to take advantage of emerging technologies on smart platforms to offer travellers a virtual airport service, reliably and seamlessly. Statistics show that 79 percent of our travellers want more self-service options; it is an effective way of using technology to respond to passenger demands."
Before its release, the app was piloted by 20 individuals, including Honours and Masters students majoring in the fields of Information Technology, Computer Science and Informatics, and Electrical and Electronic Engineering.