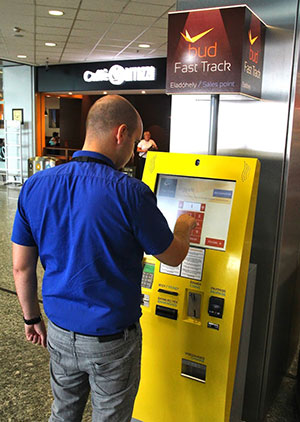 Budapest Airport has made its Fast Track Lanes more widely available by offering passengers the option of purchasing Fast Track vouchers at the entrance to the security area.
Passengers can pay €5 to buy a voucher from the vending machines that have been installed in Terminals 2A and 2B. Previously, the queue jump service was only available to first and business class travellers.
Manel Moreno, Head of Commercial Landside Services, Budapest Airport, said: "We have reached the highest western European service levels by expanding our Fast Track Lane service with these user-friendly vending machines.
"We hope that this new opportunity will quickly become popular with passengers, since it is advantageous for them to be able to access the SkyCourt (departure hall) more rapidly, using the Fast Track Lane."
A total of 11 airlines also offer the Fast Track Lane service free of charge to premium passengers at Budapest Airport: Aegan, AirBaltic, Air France-KLM, Belavia, Brussels Airlines, easyJet, Finnair, Qatar Airways, Turkish Airlines, TAP and Wizz Air.