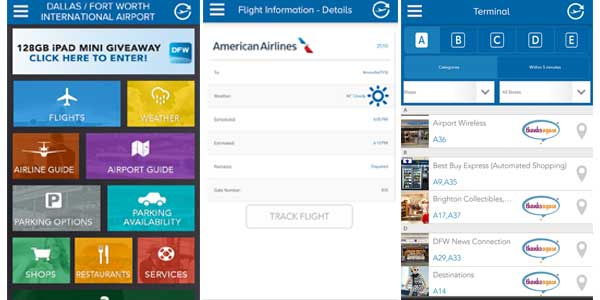 Dallas/Fort Worth International Airport has released an updated version of its app for iOS and Android devices, and it includes an innovative new 'Voice Concierge' service to help passengers make the most of their time in the terminal.
Smartphone owners can use the microphone on their device to ask questions, such as "where can I get something to eat in Terminal D?" The app will then automatically redirect to the relevant page with the answer to the question, in this case the concessions page, which lists all of the available options.
The DFW Airport app also includes a number of features that can help travellers before and during their airport experience. For example, users can search airport parking availability and costs via the app, and also access a real-time flight tracker and weather forecasts for their destination.
In the terminal, the app can be used to find specific restaurants and retail outlets, and the "Within 5 Minutes of My Gate" function lists all of the amenities within a five-minute walk of the user's departure gate.
The app also includes a detailed airport guide with information on TSA security checkpoint locations, and it is integrated with all of the mainstream social media channels.