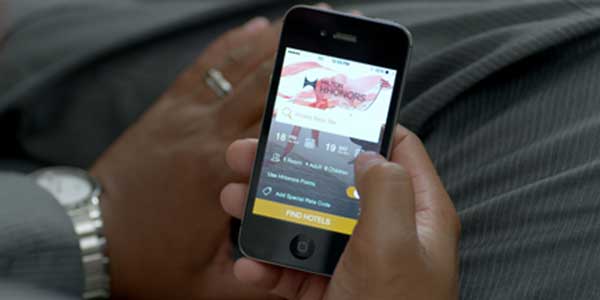 The role of the smartphone in helping to redefine the passenger experience is now more apparent than ever before. Ranging from app-based booking and mobile boarding passes, to airport wayfinding and in-flight entertainment consumption, smartphones have touched just about every element of the airport and airline experience.
Beyond the boundaries of the terminal and aircraft, though, Hilton Worldwide is embracing mobile technology to ensure the end-to-end journey, and the hotel experience in particular, is as simple and seamless as possible for travellers.
The hospitality giant has made a significant investment in exploring how smartphones can positively impact the guest experience, and the results are impressive. As well as enabling guests to make bookings via their smartphone, Hilton HHonors members can check-in and choose their exact room from digital floor plans, and customise their stay by purchasing their upgrades and making special requests for items to be delivered to their room, all using their mobile device. Guests will also soon be able to check-out using their personal device, while they will even be able to use their smartphone as their room key at the majority of Hilton hotels by 2016.
'The future of the travel industry is a connected one'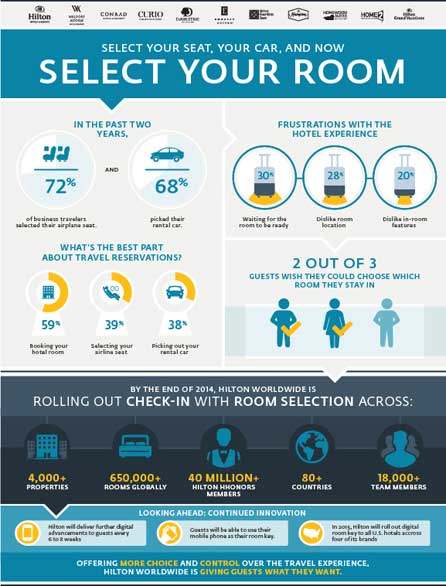 At FTE Global 2014, Hilton Worldwide's VP Brand and Guest Technology, Josh Weiss, will offer a far more detailed insight into these efforts in a keynote address in which he will outline how the end-to-end travel experience can be truly enhanced and redefined through technology and collaboration. When FTE caught up with him earlier this week, Weiss offered an insight into the inspiration behind Hilton Worldwide's investment in mobile technology.
"The future of the travel industry unquestionably is a connected one," he told us. "As of January 2014, 58% of American adults had a smartphone, and 34% of American adults reported using their smartphone most to go online – that number will only continue to rise.
"At Hilton, we're investing in and delivering on a more mobile future with our recently redesigned Hilton HHonors app. With the launch of an industry-first digital check-in and room selection, we are changing how guests engage with our brand by empowering them to dream, book, stay, check-out and follow up with us right from their smartphone."
Hotels and airlines have a lot in common
When questioned by FTE as to whether Hilton's smartphone-based strategy has been inspired by airlines' move towards passenger empowerment through mobile technology, Weiss admitted "there are many common elements of our approach."
"The check-in and room selection tools we recently launched provide guests with comparable capabilities to the mobile experience offered by the airline industry," he said. "Similarly, we have much in common with airlines from an infrastructural standpoint in terms of the complex systems used to run our business, which need to be integrated in an extremely diligent manner to enable mobile capabilities.
"Looking ahead, there will be many differences in how we bring all of this to life for our guests in the hospitality industry, but across the board this technology is rooted in delivering a seamless and easy travel experience."
The smartphone as a 'remote control' throughout the travel process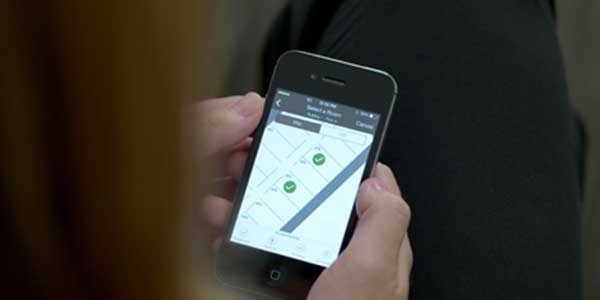 Looking further ahead, Weiss explained that there are far more opportunities to be exploited through mobile technology, suggesting even that "we're moving towards a future where smartphones and other mobile devices will become guests' remote controls throughout their entire travel experience".
At the hotel, this could mean enabling guests to prioritise their television channels, connect with the concierge in real-time, or access on-property amenities and events using their smartphone.
Importantly, Weiss also recognises the value of collaborating with other key stakeholders in the travel value chain to ensure that the benefits extend beyond the walls of the hotel.
"There are a number of opportunities for digital collaboration between the airline and hotel industries – including leveraging iBeacons and other location services and capabilities to push relevant information to travellers," he explained. "One example of where we already see this alignment between airline and hotel efficiencies is with Hilton's paid search strategy. By showing nearby hotels to customers affected by a specific flight cancellation, we make their experience easier and also drive business to our properties."
"The reality is that connectivity between various parts of our lives is becoming the expectation. This isn't just about being able to manage my entire trip conveniently from whatever device I choose, but also having consistent, convenient, location-aware access to relevant entertainment, communications, fitness, news and information, and pretty much everything else."
Hilton to outline end-to-end travel vision at FTE Global 2014

At FTE Global 2014, which will take place at the Mandalay Bay Resort Las Vegas from 24-26 September 2014, Josh Weiss, VP Brand and Guest Technology (pictured), Hilton Worldwide, will deliver a keynote address entitled: 'Views from one of the world's leading hospitality companies on how the end-to-end travel experience can be truly enhanced and redefined through technology and collaboration'.
» More information on FTE Global 2014
» Register to attend FTE Global 2014