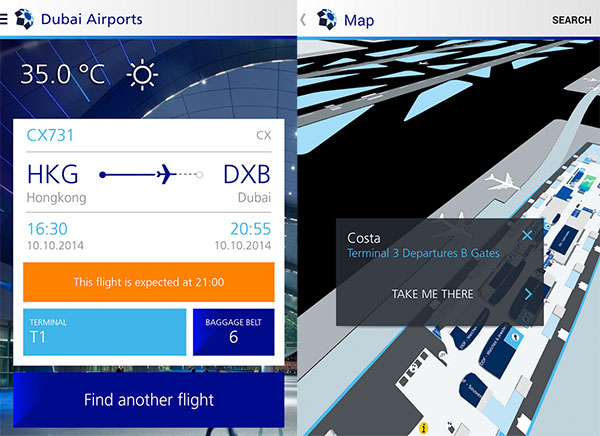 Dubai Airports has released a new smartphone app, which has a particular focus on simplifying the airport experience for passengers. Users can enter their flight number to receive bespoke information on their journey, including real-time flight updates, information on gate changes and boarding times.
The Flight Radar 24 function allows passengers to track specific flights, while 3D maps have also been developed to assist passengers with wayfinding and make it easier for them to find retail and F&B outlets in the terminal. The app covers both Dubai International and Al Maktoum International airports, and is available in English and Arabic.
A number of features have also been incorporated to help passengers prepare for their journey before they leave home. A dedicated 'Before you fly' section provides information on things such as visas and baggage regulations, while a 'Why you are here' section offers recommendations on how to pass time while waiting in the terminal.
Paul Griffiths, CEO of Dubai Airports, commented: "Our passengers are increasingly engaging with us online, demanding immediate information on our airports. The Dubai Airports App allows us to provide that information in real-time, tailored to each passenger's particular journey through our airport. It's just another way in which we are leveraging technology to create a passenger experience that is efficient and welcoming."