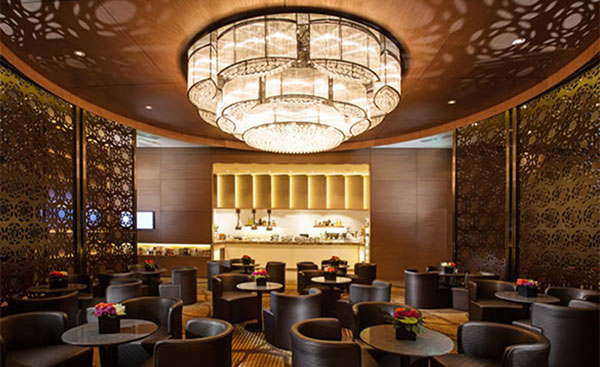 Abu Dhabi International Airport has unveiled its new-look Al Reem lounge, which has been renovated in collaboration with Plaza Premium Lounge as part of the airport's strategy to provide passengers with world-class facilities.
The 4,500 sq ft lounge spans three floors and offers Arabic, Asian and Continental cuisine, a shower room with complimentary amenities, international television channels and free Wi-Fi. Guests can even borrow a laptop if they don't have their own with them. It also includes the signature Plaza Premium Lounge chandelier, which is around eight-times the size of the original.
Mohammed Al Bulooki, Chief Commercial Officer, Abu Dhabi Airports Company (ADAC), said: "The airport continually looks to improve its facilities and services to meet both the growing number of passengers and their high expectations. There are many more improvements and new additions planned for the coming months that will ensure Abu Dhabi International Airport continues to raise the bar on customer experience.
"Al Reem lounge at Abu Dhabi International Airport will focus on catering to business class passengers and in the coming months our capital city's airport will also announce the opening of its all new first class Al Dhabi Lounge"
Al Bulooki also revealed that Abu Dhabi Airports Company enlisted the support of KCA Associates' Kinney Chan to help design the new Al Reem lounge.