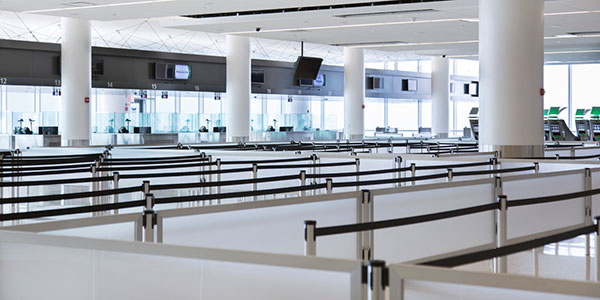 JetBlue has welcomed the first international arrival to its newly expanded Terminal 5 concourse at New York's JFK International Airport. The international concourse, T5i, designed by Gensler, provides a modern environment for passengers, who can make the most of the new state-of-the-art facilities.
The 175,000 sq ft extension includes three new gates, an international arrivals hall, an immigration hall with 40 Automated Passport Control (APC) kiosks and two new baggage reclaims.
Dave Barger, CEO of JetBlue, commented: "Our new International Arrivals Concourse perfectly mirrors T5's bright and friendly look and feel. Our home terminal – T5 – is JetBlue's unique way to properly welcome people to New York."
The terminal, which initially opened in 2008, offers an array of innovative, passenger-focused features. At certain stages of the journey through the terminal, passengers have access to views of New York City and the immigration hall offers 360-degree views of the outside. In spring 2015, a new rooftop park is also scheduled to open, allowing passengers to enjoy views of the Manhattan skyline.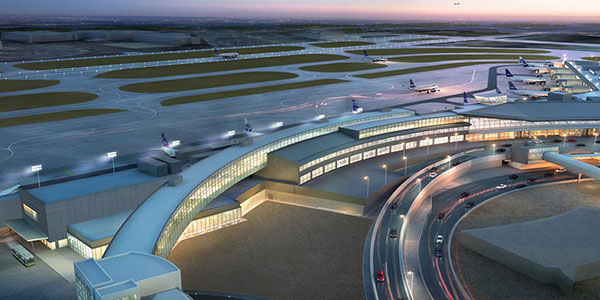 Gensler Architect and Senior Associate Ty Osbaugh said: "We designed the International Concourse to welcome people to the US and specifically to New York, greeting them with natural daylight and a view outside. We think travellers awaiting their departing flights will particularly enjoy the ability to take a walk through a rooftop park with great views of the city."
Osbaugh added: "Sometimes, the surprises are subtle. For example, when customers arrive after an international flight, they follow a strict path to disembark, go through immigration, collect baggage, and clear customs. These strictly-regulated border control processes usually take place in generic, placeless, enclosed environments. We saw an upside to this: the opportunity to offer weary travellers something unique and unexpected, like a view and natural daylight."
Among the terminal's other features are lounge-like seating at the departure gates, free Wi-Fi, dedicated customer service zones and power outlets throughout.