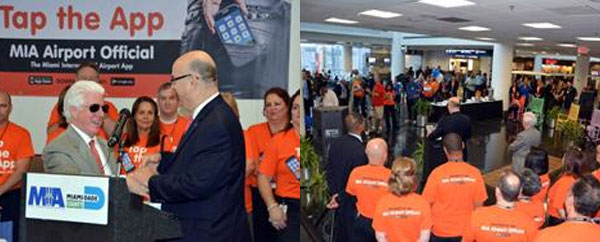 Miami International Airport has launched a new app for iPhone and Android devices, which includes a real-time flight tracking feature and an 'Around Me' function, which allows passengers to pinpoint their location in the airport and view all of the amenities within a five-minute walk.
The app also includes information on ground transportation and airport parking options, plus information on the airport's retail and F&B facilities, as well as the 51 scheduled passenger airlines that serve the airport.
"Our passengers are more tech-oriented than ever before, and they rightfully expect airports to offer customer service amenities in the digital space," said Miami-Dade Aviation Director Emilio T. González.
"The MIA mobile app is one way that we're meeting that demand, and it reflects our commitment to weaving technology and innovation into all that we do at MIA, particularly on the customer-facing side of the business."
Recognising Miami International Airport's diverse international customer base, the app is available in both English and Spanish language versions.