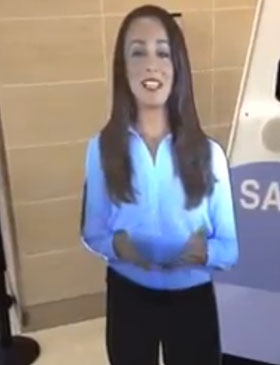 San Antonio International Airport has introduced virtual assistants at the entrance to the security lines in Terminal A to help ensure passengers are prepared for the security search process. One virtual assistant is based at the entrance to the General Boarding line and the other is at the entrance to the PreCheck line, and each one has a specifically tailored message.
San Antonio Aviation Director Frank R. Miller commented: "The avatars are another customer service tool to enhance security checkpoint experience, 'Eva' offers good information and friendly reminders that will help passengers move quickly and efficiently through security."
The aim of implementing the virtual assistants is to deliver a clear and consistent message that prompts passengers to prepare for the security checkpoint. For example, passengers are reminded to have their identification ready, which items must be placed in trays and which items are prohibited.
The two "avatars" have been specifically positioned for maximum impact. The virtual assistants' location correspondents to the spot where passengers join the security queue during peak times, while motion sensors are also used to prompt the 90-second message when a passenger is within 30 feet.
San Antonio International Airport follows the likes of Washington Dulles, Boston Logan and New York's LaGuardia, Newark and JFK airports in investing in the technology.