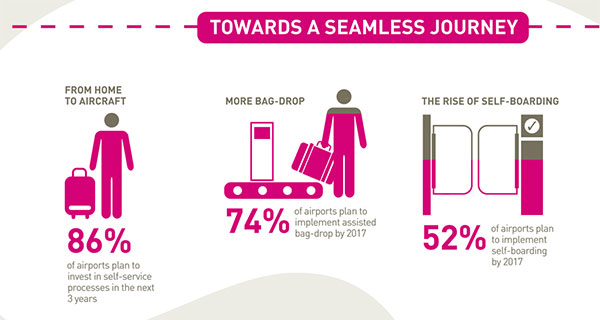 The findings of the 2014 SITA/ACI Airport IT Trends Survey have been released at the ACI Airport Exchange event in Paris, and reveal that the number one information technology (IT) investment priority for airports around the world is improving passenger processes. Also of note is the fact that 47% of airports rank passenger and airport security as their second-highest investment priority.
The report also highlights the importance of the 'connected traveller', with more than 80% of airports revealing that they are planning to invest in self-service and mobile-related projects over the next three years. IT spending among airports is set to increase, with 63% of the Chief Information Officers surveyed stating that their airport will have more money to invest in IT in absolute terms compared to last year.
Of the respondents, namely senior IT executives from 106 of the top 200 airport operators globally, 37% say they plan to increase the number of check-in kiosks, while 23% plan to make kiosks available for other uses. At present, 17% of airports report that they check-in more than half of passengers through a kiosk, but this number is expected to rise to 72% by 2017.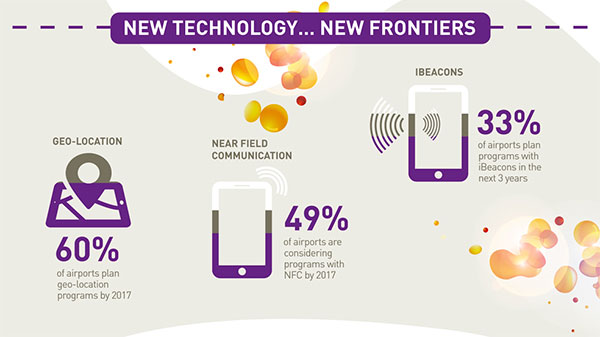 Other key findings include the fact that 60% of airports plan to invest in geo-location programmes over the next three years, 49% plan to invest in Near Field Communication (NFC) technology, 33% will invest in iBeacons, and 16% will undertake a wearable technology project. During the same period, the number of airports offering assisted bag drop is expected to rise from 38% to 74%, with unassisted bag drop rising from 16% to 62%.
Still looking ahead to 2017, the survey also reveals that the majority of airports plans to expand services through mobile apps, with 78% focusing on Customer Relationship Management (CRM), 73% on security wait time notifications, 72% on wayfinding, and 65% on retail services.
Francesco Violante, CEO, SITA, said: "This is the age of the connected traveller with nearly all passengers carrying mobiles, tablets and other devices. It is vital that airports invest in the infrastructure to support the changing expectations of these passengers. This year's survey shows that the majority of airports globally are investing more in new technologies and mobile services for passengers in an effort to improve passenger processes and satisfaction."
The 2014 SITA/ACI Airport IT Trends Survey also offers an interesting insight on Chinese airports. A total of 65% of Chinese airports have a major self-service programme in place, while a further 29% are running a self-service pilot project. More than one-third of China's major airports also revealed that they plan to increase the number of check-in kiosks offered.