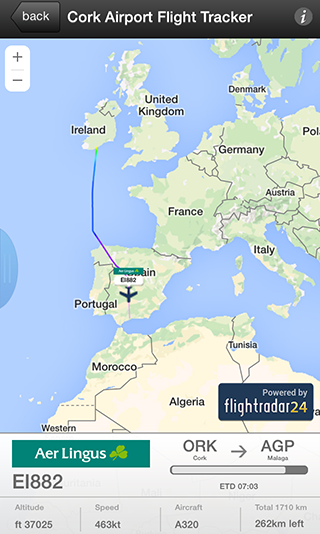 Cork Airport has added a real-time flight tracking feature to its app, which allows travellers to view detailed information on the Irish airport's departing and arriving flights.
The tracking function is provided by Flightradar24 and by clicking on an aircraft on the map, users can find out the aircraft's route, speed, type, altitude, distance travelled and total distance to the destination.
Kevin Cullinane, Head of Communications at Cork Airport, said: "We are delighted to launch the new flight scanning feature on our app.
"To be the first airport in the world to introduce this innovative feature is a fantastic achievement and is a further example of Cork Airport's commitment to providing a world-class customer experience for every passenger using the airport."
While Cork Airport claims its new feature to be a "world first", it's worth noting that some airlines currently offer flight tracking via their apps, although not via Flightradar24. easyJet, for instance, offers a mobile Flight Tracker on its official app, which provides users with live flight statuses.
Cullinane added: "Last year we became the first airport in Ireland to make Google Indoor Maps available for all public areas of Cork Airport and in 2015 we will continue to innovate and introduce new initiatives to maintain the world-class customer experience for which we are known."