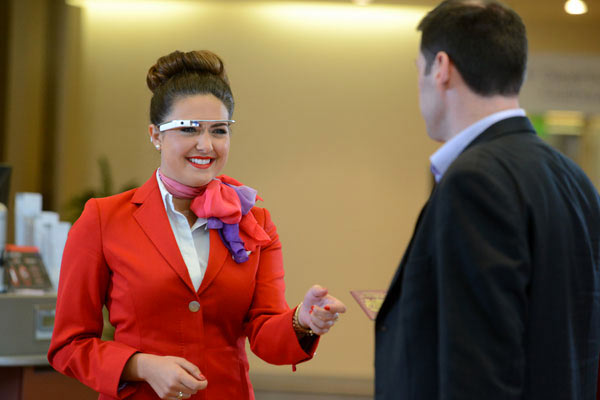 Google's announcement that it will cease sales of Google Glass has come as a surprise to many, probably even those airlines and airports – the likes of Virgin Atlantic, Copenhagen Airport and Edinburgh Airport – that have recently invested in the technology. So, what does this announcement mean for the future of the smart glasses market, and more specifically, for the airports and airlines that have already identified the benefits offered by the technology?
Firstly, it's important to note that the ending of Google Glass sales does not mean an end to the Google Glass project. Instead, Google Glass will move apart from the Google X lab (in the company's own words it is "graduating") and continue as its own dedicated team.
Upon hearing the news, FTE spoke to Renaud Irminger, Director of SITA Lab, and Tim Graham, IT Innovation and Development Manager at Virgin Atlantic Airways, to find out what this development could mean for future uptake of smart glasses in the air transport industry.
Irminger has undertaken extensive research and trials with Google Glass to establish the benefits it offers to airlines and airports, and SITA Lab worked very closely Virgin Atlantic on the industry's first trial of Google Glass as a customer service tool last year.
He told FTE: "At SITA Lab, we think that Google has finally reached the same conclusion as us through our trials in air transport: that Google Glass-like devices are not, under their current form, a general public/mass market product, but they have huge potential for professional workforce.
"We see much potential usage in the areas of operations, customer services, security and immigration in the air transport industry. The fact that the current Glasses are discontinued is logical as they were too fragile for professional workforce usage. We hope that Google will quickly release a new version that is more ruggedized, can be folded and will be more suited for our use cases."
Meanwhile, Virgin Atlantic's Graham revealed that the carrier is liaising with Google to get "clarification on the precise details of the announcement", adding: "This should not be a major setback to the industry as Google is not the only supplier to be developing wearable technology. We will continue to work with them and our other partners to invest in innovative ideas and ensure we are at the leading edge in this area".
So, for anyone wondering whether Google's surprise announcement will bring down the curtain on Google Glass, the answer is, quite simply, that it will not. In fact, the move will support the company's desire to create a smart glasses product that is suitable for wider use, which could be especially good news for the air transport industry, which has already identified multiple areas in which the technology can help to improve operations.