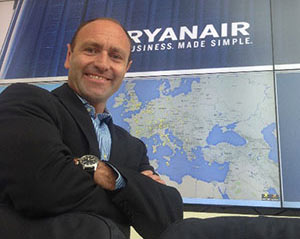 Ryanair has extended its Business Plus fast-track security service to three more airports, allowing business travellers to skip the queues at airport security. The service will be introduced at Gatwick Airport, Rome Ciampino Airport and Eindhoven Airport in February, March and April respectively.
Kenny Jacobs, Ryanair's Chief Marketing Officer, commented: "Ryanair will carry over 24 million business customers this year and the launch of our Business Plus service has made flying with Ryanair an even smarter choice for European business, with our tailored package offering a free airport check-in, flexible ticket changes, a 20kg bag allowance, fast track at airports, priority boarding and premium seating."
Jacobs also said the low-cost carrier plans to make the fast track service more widely available. "We're continuing to work with our airport partners to extend this service to more airports," he added.
The introduction of security fast track at Gatwick, Rome Ciampino and Eindhoven airports follows the launch of the Business Plus product in August 2014, as part of the carrier's ongoing 'Always Getting Better' programme.