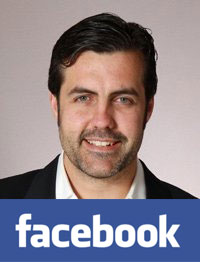 The proliferation of mobile devices and the emergence of the always-connected traveller have created huge opportunities for consumer technology giants to help shape the passenger experience of the future. With this in mind, when we spoke to Facebook's very own Head of Travel this week, we were keen to find out his thoughts on the future role of mobile technology and social media in travel, and how airlines and airports can use them to help improve and simplify the travel experience.
As the man in charge of the travel vertical for the social media company that has brought its product into the lives of 1.39 billion users to date, it could be seen as somewhat surprising that Lee McCabe says he thinks that when we talk about social media, the word "social" is actually "irrelevant" from a business perspective. "I think they (airports and airlines) are confused by the word "social"," he says. "If you look at how the word "social" has changed over the last two to three years, companies started off and they thought it would all be about the company that builds the most fans and the most likes, and works out the value of sharing. I think companies span the wheels for a long time and they ended up with a lot of likes and fans, but the problem was it was very, very hard to tie that back to real business metrics, especially for airlines."
Startups and new companies that take a "mobile first" approach understand this, he says, and integrate Facebook and other social media with their three core business objectives: Awareness, Conversion and Retention. But what can airlines and airports learn from this, and why is it relevant to the passenger experience?
Big data, personalisation and social media
According to McCabe, it all ties in to the increasing importance of personalisation. "I think the travel industry is a long way away from getting personalisation right, but the focus is correct. It will be increasingly important with the growth of mobile technologies," he says.
"The buzzword of "big data" has been used for a long time, but when I think about it, it's really about personalisation and leveraging all these data sets you can get, to know more about your customer and improve personalisation. It's important for mobile, because that will help you provide context for people, so when they're using your mobile app, you know about them and you can provide context of where they are and what they want."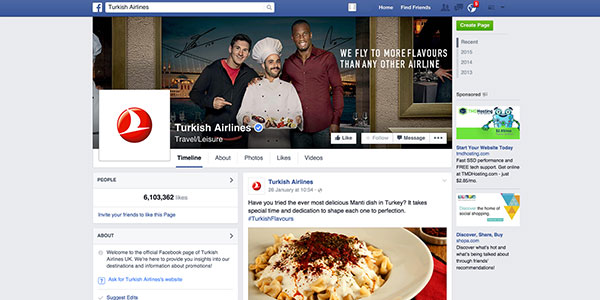 There's no denying the fact that airports, airlines and other travel industry stakeholders are more keen than ever before to cater to the needs of individual customers – whether it's to improve their experience or drive revenue generation – but we can't help but wonder why they might need the help of the likes of Facebook to make improvements in this area.
McCabe, who will be speaking at the Economist Future of Travel conference next month, explains: "When people come to working with big data, they're really working with cookies. You're working with multiple data sources, you're trying to tie cookies together and stitch cookies together, and make a call that you're finding the right person. The big advantage that Facebook has is identity. Because we know real people and we're not reliant on cookies and matching cookies, when we work with partners and advertisers, and airlines or hotels, the identity is a key piece, and going forward it will become more and more important in this journey on personalisation."
Facebook – a key passenger experience tool in the airport terminal?
So, if the tables were turned and McCabe worked for an airport and not Facebook, how would he exploit these opportunities? "If I was an airport," he says, "with existing technologies like Facebook, I would want to reach as many people as possible and I'd want to reach them at key points in that travel journey, which is something you can do. I would pull a strategy together and look at an average person's journey through an airport, from arrival at the airport, and look at the pain points right now – things like going through security, getting to the right terminal, getting to the gate – and also look at the shopping and entertainment experiences that are there. I think that's something they can do now and something they should work on.
"It's about working with a platform like Facebook that allows you to reach the right people and then target them at opportune moments, and make sure the targeting is relevant. And help them with their pain points – send them messaging about the length of the security queues, give me a better plan of the airport, and what time to go through security; let them know more about the restaurants, the shops, the offers. I think there's a big opportunity there to improve that flow of information."
Facebook, he suggests, with its wide reach and prominent role in our everyday lives, could well provide an ideal platform to enable all of this. "There are various technologies emerging, but Facebook is one that would definitely work very well. People are checking Facebook a lot every day. On mobile, one in every five minutes is spent on Facebook, but personally when I think about my down time in an airport, that is probably a lot higher. I'm probably checking Facebook a lot in those situations. It's a perfect channel to reach these travellers."
'If I was an airline I would be racing to develop the best app possible'
It goes without saying that at the heart of all of these possibilities is mobile technology. Its importance is highlighted by the fact that 81% of today's travellers carry a smartphone, 43% carry a tablet and 18% carry multiple devices (according to SITA's 'The Future is Personal' report released this week). This is relevant not just because of the opportunities presented to interact with passengers during their journey, but also because of a wider impact on the end-to-end travel process.
Referencing a recent PhoCusWright report, McCabe explains that in the United States 12% of all travel bookings will be made using a mobile device in 2015. This figure was just 2% in 2012, but despite the exponential increase McCabe believes many airlines are not moving fast enough to react.
"I think the one thing I would focus on is apps," he says, "which a lot of companies aren't getting the value of yet and aren't putting a lot of development into. They're important now and over time they'll just become more important.
"Mobile is going to be more and more important for travel and that means the paradigm of booking travel will shift – it will move from a world of web to a world of apps. So we'll move from where we are now, where the average person looks across 20 to 30 different websites and then somehow they make a decision and they book, to a world of apps, where people will have a couple of apps on their mobile device and they'll become a lot more loyal to these apps. We can see this happening now because 86% of usage on a mobile is apps – it's not mobile or web. And the average person only has 26 apps, so for travel, the average person will never have a lot of travel apps. They will probably end up with an aggregator – an OTA or a metasearch – they'll then have an airline app that they're loyal to, a hotel app that they're loyal to, and the rest will then be utilities. Right now it's a huge window of opportunity, it's a land grab."
When pressed to reveal what he would do if he worked directly for an airline, McCabe revealed: "If I was an airline I would be racing to develop the best app possible and once I have that I would be racing to make sure I get that app landed on as much mobile real estate as possible. I think apps are the most important thing right now and going forward we already think about mobile in terms of smartphones and tablets, but with the growth of wearables, who knows what we'll be wearing in the next five years? Either way, I'm pretty confident they'll be driven apps, so that's the most important thing now when I think of mobile. The industry, I think, is yet to shift. When you look at all of the apps in the app store, there are a few companies with good apps, but I think they have a long way to go."
Although the industry still has a lot of work to do to fully exploit the potential offered by this continuous move towards a "world of apps", there is no doubt that mobile technology – in multiple forms, not just as a single device – is the core enabler. As McCabe tells us, "you have to tie all of these devices together" to get the most value; "it just doesn't work if each device is working independently and collecting data independently".
"In this industry," he adds, "it's hard to predict one year ahead, never mind 10 years ahead…but in the case of airlines and airports, I think there are huge opportunities to partner with multiple companies to meet their objectives and make the traveller experience far better."