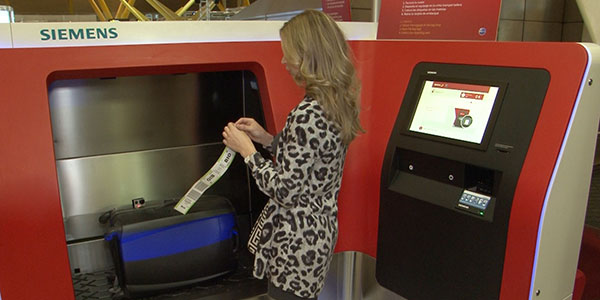 Simplifying the passenger experience has been a key goal of Iberia's for some time, particularly since the launch of Project Agora, which comprises more than 200 separate initiatives, all of which contribute to the ambition of making its Terminal 4 Madrid-Barajas Airport hub one of the most efficient and user-friendly in the world.
For the latest project, the Spanish flag carrier is working closely with Aena, the country's airports authority which is leading the project, as well as Siemens Airport Logistics, in an effort to prove the benefits of self-service check-in and bag drop.
The new solution, which can be found next to check-in counters 818 and 819 in T4, is a one-step system that allows passengers to check-in, select their seat, print their boarding pass, tag their bag and deposit it into the baggage handling system all in one place and without the assistance of an airline agent. The solution grabbed our attention here at FTE because it represents a close collaboration between airport, airline and supplier.
Speaking to FTE, Fernando Sánchez Díaz of Iberia Airport Services, explained that the new system will be piloted for between six months and one year. "During this period," he said, "we will test how many customers use this new system of self-check-in, but also if those who have used it are satisfied with this new service."
Interestingly, the solution, which went live on 9 February, is aimed at passengers who wish to undertake the entire check-in process at the airport. Therefore, there is a feeling that it could help to convert those travellers who are not yet embracing the full benefits of services like online check-in.
Why one-step?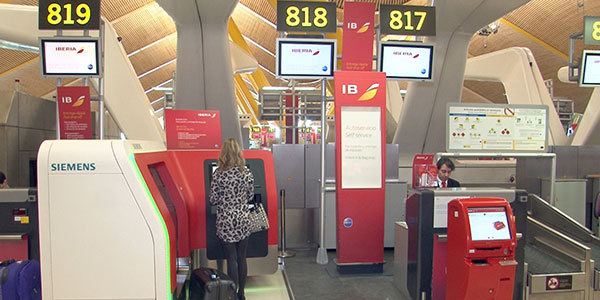 The debate as to whether one-step or two-step self-service processing is more effective is one that still dominates many discussions on this subject ("two-step" describes a process whereby passengers print their boarding pass at a kiosk and then drop their bag at a separate location in the terminal), but Iberia, Aena and Siemens have evidently decided that a one-step approach has its merits.
FTE approached Javier Pérez Castillo, Director of Engineering and Projects, Siemens Airport Solutions, to find out the reasoning behind the decision to pursue one-step. "A single step process requires less space and is more simple for the passenger," he explained. "To be able to do check-in, bag drop and payment in the same place has had very good acceptance by passengers."
Castillo explained that Iberia and Aena have been supporting the development of the self-service solution for "more than five years" already and great effort has been made to build flexibility into the system. As a result, while it is now being piloted as a one-step process, Aena and Iberia can actually opt to offer just the bag drop element of the process for passengers who have already checked in and printed their boarding pass. "The main benefit of this solution is that it is flexible for the airline. The airline can use it in the format they want – one or two steps," he said.
When FTE launched the findings of the Airports 2025 Think Tank almost 18 months ago, one of the key points was that suppliers must work more closely with airlines and airports from the very early stages of product development to ensure the end result meets all of their needs, as opposed to simply presenting them with a solution in the hope that it satisfies their criteria. This project between Aena, Iberia and Siemens proves that such a development process is feasible, but we'll have to wait a while longer to find out what impact it actually has on the passenger experience.