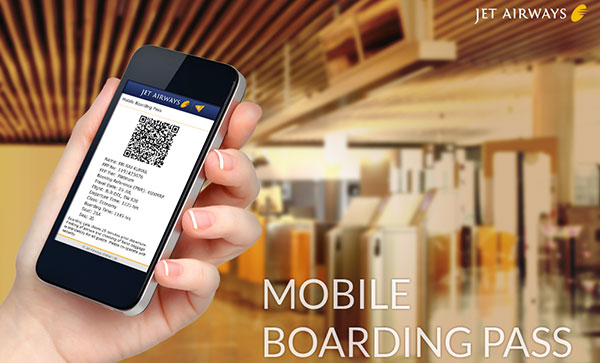 Jet Airways will allow passengers on certain routes to use mobile boarding passes, following the launch of a pilot project alongside the Bureau of Civil Aviation Security of India (BCAS) and Bangalore International Airport Limited (BIAL).
Passengers flying from Bangalore to Mumbai and Delhi can participate in the trial, which the Indian carrier says is the first pilot of its kind in the country. To support the trial, BIAL has installed mobile boarding pass scanners at the entrance of the terminal, security checkpoints and boarding gates.
Cramer Ball, CEO of Jet Airways, commented: "We are delighted to partner BCAS and BIAL to test the application of mobile boarding passes. This initiative is set to greatly improve the on-ground guest experience during the departure process. Following the successful completion of the trial we'll look to extend this service across all Jet Airways flights once regulatory approvals are notified."
GV Sanjay Reddy, Managing Director, BIAL said: "At KIAB (Kempegowda International Airport, Bengaluru) our efforts have been to constantly evolve our IT systems and processes to help us serve our passengers and airlines more efficiently. The mobile boarding pass trial is a process improvement with simplicity and convenience at its core.
"This will have a direct impact on time saved and the overall passenger experience during departure. We are delighted that Jet Airways and Bengaluru Airport have partnered to test this concept and we hope this process improvement will receive the necessary regulatory clearances, and can be a reality and established process soon."