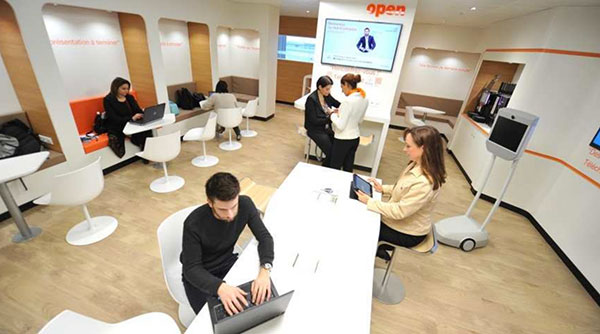 Aéroports de Paris (AdP) has unveiled a new digital business lounge concept, Espace business, at Paris Orly Airport, which provides a space for business travellers to work and makes use of beacon technology to promote networking between passengers.
Espace business is located in Hall 2 of Orly West, where 58% of the 9,000 passengers who pass through the facility on a daily basis are travelling on business. These passengers can access the new digital lounge free of charge, where they can make use of Wi-Fi and workstations.
Using AdP's My Airport app, passengers can also register via the "Espace business" tab and give permission for the app to notify other passengers of their presence. Thanks to the installation of beacons in Hall 2, the user will then be automatically notified of anyone else who has registered and is in the vicinity, and they can request a meeting with them if they see potential business benefits.
Augustin de Romanet, Aéroports de Paris Chairman & Chief Executive Officer, said: "Air transport is facing changes which expose European airports to an increasing level of competition, between themselves as well as with other means of travel. Aéroports de Paris must therefore continually improve the services it offers by closely following the latest technological developments and ensuring that it meets the needs of all types of travellers. Espace business is in line with the group's digital strategy to provide passengers with an improved airport experience."
Visitors to the Espace business lounge can also access dedicated content on the latest business trends, presentations about innovative start-ups and make use of a free one-month subscription to an English learning app.
To mark the opening of Espace business, AdP has teamed up with Hub One, which has provided a robot to roam around Hall 2 to promote the various services on offer, while passengers can receive a link to download the app by just tapping their smartphone on a "Mobi One" terminal.