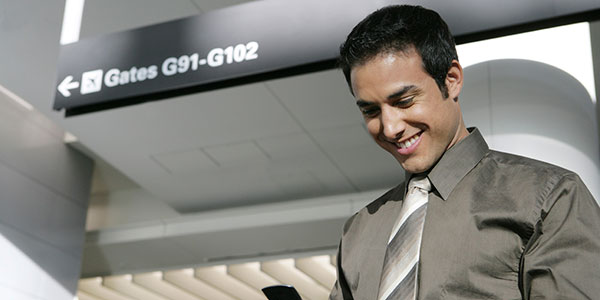 A report released this week by SITA, entitled 'The Future is Personal', highlights the myriad opportunities presented by the continuous rise of mobile technology and the connected traveller, and outlines what steps airlines and airports are taking to help ensure they are well placed to take full advantage.
The vital role of mobile technology is highlighted by the point that 97% of air travellers now carry their own device when travelling, with 81% carrying a smartphone, 43% a tablet, 43% a laptop and 17% carrying all three. This, the report states, creates huge opportunities in terms of communications with passengers, personalisation and disruption management throughout the end-to-end travel process.
The relevance of mobile technology is clearly not overlooked within the industry – 100% of airlines are investing in mobile services, as are 84% of airports. As for the travellers themselves, "around half of all passengers are keen to use mobile services that will support them at the pinch points of their journey through the airport, whether that is finding their way around, accessing lounges or the aircraft, providing identification at checkpoints, or making payments". 54% of passengers surveyed also said mobile-based airfare comparison should be a top priority for the industry.
Sharing personal information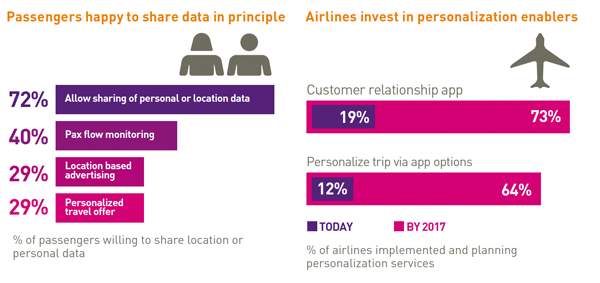 While travellers are clear where they would like to see investment, giving up their personal information is often seen as a barrier, but the findings of the SITA report suggest that this obstacle may actually be overstated. In fact, 72% are willing to share their location or personal data with their travel providers. However, only 29% are comfortable sharing private data for commercial purposes, and 40% for process improvement purposes, such as passenger flow monitoring.
So, how are airlines reacting to these passenger demands? Of those surveyed, 73% have plans for customer relationship handling via smartphones apps by the end of 2017, and 65% plan to integrate real-time passenger data such as flight status, inventory and purchase history during the next three years. As for the airports, around 70% expect to be offering mobile-based customer relationship handling and updates on wait times at security by the end of 2017.
Personalising the in-flight experience
Clearly, mobile technology and constant connectivity provide significant opportunities on the ground, but there is huge potential onboard the aircraft too. According to EuroConsult, in excess of 12,900 commercial aircraft are expected to provide in-flight connectivity to passengers by 2023, which is a key enabler for a more personalised experience.
Around half of passengers say they would definitely use their own device for in-flight entertainment (IFE), sending and receiving emails and text messages, and to buy F&B or browse a virtual duty free shop. For IFE specifically, 63% would prefer to use their own device, compared to 55% who would use an airline-provided device. Highlighting the value of destination-based onboard sales, almost half of those surveyed said they would use some of their time to plan their trip and buy destination services.
JetBlue Executive Vice President & CIO Eash Sundaram suggests that onboard personalisation can be taken even further. "We're looking at profiling people's moods on a real-time basis using social media input," he says. "For example, we could understand from customers' social media profiles whether they're happy, or maybe going to a wedding, or a graduation. Think of a place full of people with certain categories of profiles: we can deliver content that's specific to them, right to their seats." This digital profile-driven vision very much ties in with what Facebook's Head of Travel, Lee McCabe, recently told FTE.
Leveraging mobile for disruption management
Disruption management is another of the report's key focal points; specifically how passengers expect airlines and airports to leverage mobile technology to help them during unforeseen events, such as a delayed or cancelled flight. More than half of travellers expect a smartphone app notification or a call to their mobile phone, and a similar proportion expect to receive email notifications during disruption situations. Social media is less of a priority, though, with 29% saying they would expect alerts via this channel. To help get their journeys back on track, 57% of passengers expect personalised rearrangement options and 55% want automatic rebooking on the next flight – something 70% of airlines are planning to offer.
The importance of mobile technology and the demand for personalisation throughout the travel process is not news to this industry, but this report certainly does highlight both the true extent of the opportunities on offer and the definite need for airports and airlines to invest significantly in this area. Travellers clearly want the travel facilitators to be more proactive, so the onus is on airports and airlines to make sure they meet this demand.