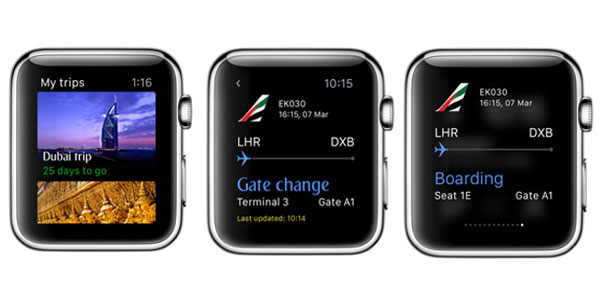 Over the next few weeks, we can expect a flurry of announcements that various airlines have launched an app for the Apple Watch, but Emirates is the first Middle East-based carrier to unveil its own version, a few days after UK-based easyJet revealed its own Apple Watch app.
The Emirates app will complement its existing iPhone app and will enable owners of an Apple Watch, which will be available from 24 April, to review their upcoming trips, access real-time flight and journey information, receive timely notifications of gate or baggage belt changes, and access their boarding passes. At launch, it will support three languages: English, French and German.
"In today's connected world, mobile technology plays an increasingly important role in the overall travel experience of our passengers," said Alex Knigge, Senior Vice President, Digital at Emirates.
"The Apple Watch platform allows us to connect with travellers on a more personal level by providing real time information throughout their journey. Our team developed the Emirates app for Apple Watch with modern travellers in mind, making sure this wearable technology delivers key information, with a simple glance at their wrist."