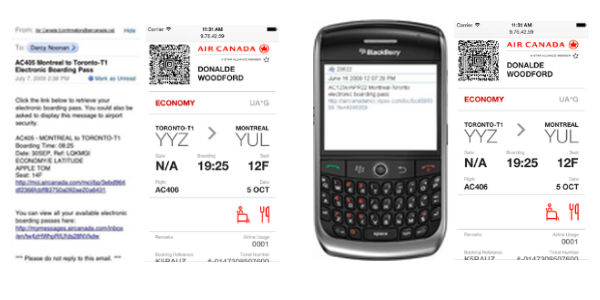 Air Canada and the Transportation Security Administration (TSA) have incorporated the TSA PreCheck indicator into the carrier's electronic boarding passes, which allows eligible passengers in possession of a mobile boarding pass to proceed to dedicated PreCheck security lanes without having to re-print their boarding pass at the airport.
Previously, regardless of whether or not a passenger had checked in before arriving at the airport, they had to print their boarding pass at the airport if they wished to use the fast track PreCheck lanes. The latest development means that passengers can now check-in using their mobile device, receive their 2D bar coded boarding pass to their device via SMS or email, and then proceed straight to security when they arrive at the airport, as long as they don't have any bags to check in.
When FTE contacted Air Canada earlier this week, 49 of the 52 US airports it serves had already upgraded their systems to accept 2D boarding passes with the TSA PreCheck indicator. New York JFK is expected to update its systems this week, and Phoenix and Baltimore airports should follow suit soon.
Benjamin Smith, President, Passenger Airlines at Air Canada, said: "This will make it easier for eligible customers to access the TSA PreCheck programme, a welcome smart security initiative that saves time and avoids cumbersome requirements such as removing shoes and belts.
"For frequent business travellers, TSA PreCheck is attractive because many already have Nexus or other recognised security documents to qualify. As the only foreign airline approved for TSA PreCheck, it is another way Air Canada is distinguishing itself in the transborder business market."