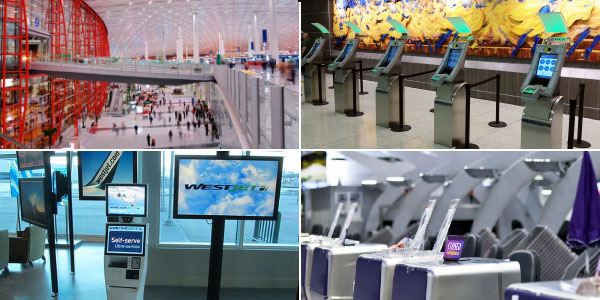 The recent acquisition of AirIT by Amadeus, and Embross North America Ltd's acquisition of IBM Global Business Services' Travel & Transportation kiosk business has thrust the spotlight onto the airport IT space, raising questions as to what consolidation means for the wider industry; a question that has lingered since late 2013 when Rockwell Collins completed the acquisition of ARINC, and Lockheed Martin bought Amor Group.
"Synergy", "natural fit", "perfect timing", "shared vision" – they're all phrases that we hear time and time again when one company acquires another, but what is driving this consolidation, can we expect to see a lot more of it, and what does it all mean for airports and airlines?
According to John Jarrell, Senior Vice President North America and Head of Airport IT at Amadeus, "market entry" was a large driver for Amadeus' acquisition of AirIT. "It was a big part of it, as we're still a relatively new industry player in airport IT – we launched publicly only two years ago," he said, referring specifically to the Airport IT division.
The deal with AirIT followed the acquisition of UFIS Airport Solutions, the bulk of whose staff was based in Singapore. AirIT was present in 30 of the top 50 airports in the US, so the geographic relevance of the deal is clear to see. "We (Amadeus' Airport IT business) started with a focus in Europe, because that's where the resources I had at my disposal were based, so we focused on our own back yard," Jarrell explained. "To enter North America, I had the option of either go and hire lots of people and build a team there, or take a different approach and acquire a company that has had a good reputation there and has a good customer base. There are some overlapping products and some complementary products. It was a very good strategic match for us."
As for Embross Group, which is headquartered in Australia, it's a similar story. The acquisition of IBM's kiosk business will expand its existing manufacturing base and software capability, and the company is also planning to transition to a larger facility in the Toronto area later in 2015 to support its growth ambitions.
'Consolidation is a cyclical process'
The companies' motivations are clear, but is this the start of a much larger consolidation trend? According to SITA's Vice President: Airport Solution Line, Matthys Serfontein, it is just a cyclical process. "What you're seeing, I don't think is new for the IT sector. It's cyclical – recently it's involved some fairly high profile names, so it's been a bit more in the news, but it has always been part of the business cycle. At SITA, we've acquired various companies over the years…it's part and parcel of the business.
He continued: "There are new companies being created all the time…they tend to be very localised and then when they start growing they need to move on to the next stage." Some companies, especially the smaller ones, "may need it (consolidation) to survive", he added, particular when continual capital investment is necessary to support growth ambitions.
'Stagnation' driving consolidation
Amadeus' Jarrell, however, has a different theory. While some acquisitions of larger companies are driven by desires of others to "diversify" from their core markets – from defence into the commercial airport space, for instance – he also sees another driver of consolidation. "I think that in many ways, some of the legacy providers in the airport IT space have stagnated and some are seeing the opportunity to bring companies together to create something more unique," he stated. "I don't think it's that the market is growing much, but there is a need for change."
This opinion is not universal, though, and SITA's Serfontein believes "there's continuous innovation within the industry", highlighting the development of the Common Use Beacon Registry and the increasing number of SITA airport customers already utilising cloud-based common use solutions as examples.
'The marketplace dictates what they're prepared to pay'
When questioned about the possibility of further acquisitions in the short-to-medium-term, both Jarrell and Serfontein said that they remain open-minded, but were unsurprisingly coy on revealing anything more specific. However, when pressed to share their thoughts on how further consolidation could impact airports and airlines – perhaps in a negative sense by way of limiting the choice of suppliers in the market – both said it should be seen as a positive for the industry.
"If there was no competition in the market, or if that was the perception, it could be disadvantageous, but that's not the case – right now I can think of 20 or so big players in the market," Jarrell said. Among the benefits brought about by consolidation, he added, are better integrated product offers, more unique solutions and lesser risk. "Smaller companies can be resource constrained when they're working on some of the bigger projects, so consolidation can lower any associated risks," he explained, which brings about "more stability".
Serfontein, meanwhile, explained that the buyers – the airports and airlines – will remain in a powerful position. "The marketplace still dictates what they're prepared to pay for these solutions," he said. "Even with consolidation, there are so many services and solutions, and there are providers that will not be part of these consolidation efforts. So the marketplace still dictates. With our community focus at SITA, we want to continue to provide long-term value to the air transport community."
With the benefits of consolidation being lauded by the suppliers, it will be the airports and airlines themselves that will judge whether or not it proves to be a positive in the long run. One well placed industry insider told us this week that he thinks further significant acquisitions are now inevitable as the airport IT sector is "ripe for consolidation", so the landscape may well continue to change over the course of the next year or so.