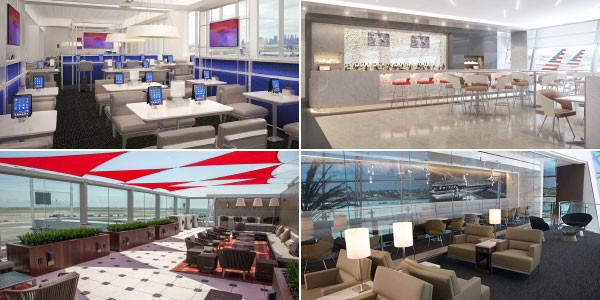 A traditional tool in the ploy to keep premium customers happy, airline lounges continue to be the subject of significant investment and now, in the United States, legacy carriers are engaged in a battle to outdo one another with their premium products.
In the last two months alone, United Airlines and American Airlines have both announced major lounge renovation programmes. The former will refurbish a number of its Club lounges, starting with those in Chicago O'Hare and Washington Reagan airports, before bringing about "major changes" in Los Angeles. New Club lounges will also be built in Atlanta and San Francisco, and in addition to the new furniture, dedicated work and rest zones, and sleek décor, the carrier's lounge staff will be retrained to offer a level of hospitality akin to what hotel guests would expect to receive. Jimmy Samartzis, United's Vice President of Customer Experience, said the upgrades will be "transformational", and will "give our customers the elevated, hospitality-centric service and experience they deserve and expect".
Cue an announcement weeks later by American Airlines, outlining plans for "the most expansive lounge makeover programme in the airline's history". As part of the carrier's on-going $2 billion investment in improving the customer experience, Admirals Club lounges will be renovated, starting with those in Phoenix Sky Harbour and São Paulo airports, and extending to the construction of new premium lounges in Miami, New York (JFK), Dallas/Fort Worth and Los Angeles. "Our goal is to create spaces that are more in line with how people live and spend their time today," stated Fernand Fernandez, American Airlines' Vice President – Global Marketing.
The two announcements were very much on the cards, given the fact that Delta Air Lines has been investing heavily in improving its own lounge experience in recent years. The 24,000 square feet Delta Sky Club in JFK Terminal 4 – complete with the Sky Deck outdoor terrace, views of New York City, 400 seats and even a private VIP room – is the carrier's flagship facility, but the investment spans to Honolulu and, of course, Los Angeles.
Unique experiences at LAX
Los Angeles International Airport (LAX) is a common theme in this battle, due to its strategic significance for the legacy US carriers. However, it is not just US-based carriers investing in the premium experience here. A $6.2 million investment by Emirates resulted in the opening of a new luxury Emirates Lounge in the Tom Bradley International Terminal in March 2015. Mohammed H. Mattar, Emirates' Divisional Senior Vice President – Airport Services, went so far as to say that the new lounge is "a nod to the Golden Age of air travel".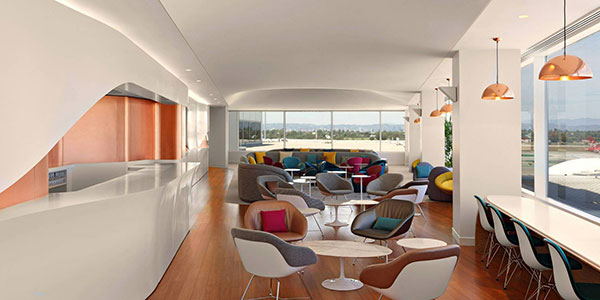 Virgin Atlantic has also just invested £2.5 million ($3.8m) in its own premium Clubhouse lounge at LAX, which opened this week and includes a meet and greet chauffeur drop-off service and views of the Hollywood Hills. "Los Angeles was the natural choice for our next Clubhouse investment. It is such an important route for us – we have been flying there for 25 years this year," explained Reuben Arnold, Virgin Atlantic's Brand and Customer Engagement Director.
Not to be outdone, Qantas has just put the finishing touches on its own LAX lounge renovation project, which has seen floorspace increased three-fold and will also benefit the premium customers of fellow oneworld members British Airways and Cathay Pacific.
A new approach to creating 'premiumness'
Of course, investment in premium products, including lounges, is vital to travellers' perceptions of an airline's brand, and premium travellers provide the most important source of passenger revenue, so not investing is simply not an option.
According to Ben Orson, Managing Director of JPA Design, a design company with global experience across the transportation industry and which is working with American Airlines on its on-going lounge renovation programme, airlines are focusing more on creating unique experiences for their customers.
Speaking to FTE just before American Airlines announced its latest lounge investment, Orson said: "In the not too distant past, it was enough to create that "premiumness" by bringing in brands that people associate with being premium. So you could take a space and fill it with these brands and you could essentially buy in premiumness from elsewhere. It's perfectly appropriate behaviour and if you can find brands that align with the way that you want to do service, then why not collaborate.
"But I think there's been a little bit of a shift away from that…what we're seeing is a shift towards it being more about the experiences that can only be provided in that particular context by that particular brand."
Delta's Sky Deck with views of New York City, Virgin Atlantic's Hollywood Hills-facing lounge and the use of hotel-style service and destination-inspired décor all provide examples of how location and context can be used to create original experiences for premium customers and, in turn, breed the loyalty that every carrier craves. As the multi-million dollar investments continue, so does the ground-based battle for premium passenger loyalty.