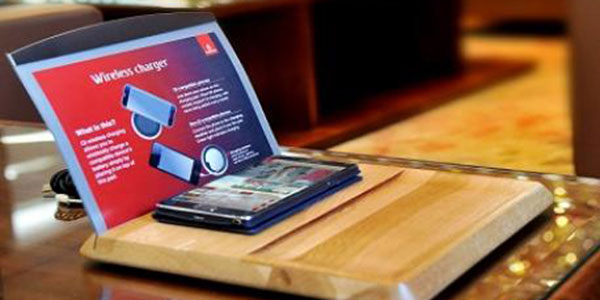 Emirates has installed inductive charging trays in its First Class and Business Class lounges in Concourses A, B and C at Dubai International Airport. The trays allow customers to wirelessly charge up their smartphones simply by placing them on top of the tray.
The charging trays are compatible with any handset that supports wireless charging, and each tray can charge two devices simultaneously.
"Our aspiration is to provide greater comfort for our customers and a hassle-free, seamless travel experience. Mobile devices are an intrinsic part of our lives, and at Emirates we see free Wi-Fi and wireless charging on the go as becoming the norm in the future travel experience," said Mohammed Mattar, Divisional Senior Vice President, Emirates Airport Services.
"That is why we invest to continually enhance connectivity in our lounges and onboard our aircraft. We are working with leading technology providers to launch a broader and more evolved deployment of wireless charging in our lounges and look forward to expanding this service for our customers."