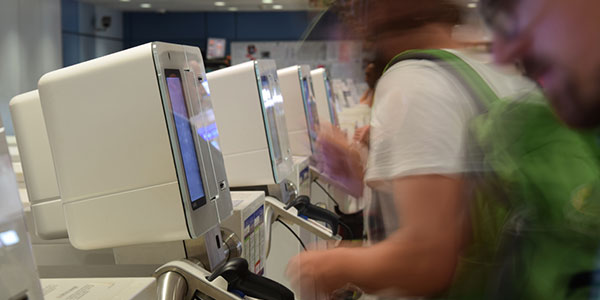 Geneva Airport has doubled the number of self-service bag drop units available to passengers in light of high demand for the service. The airport initially installed three Scan&Fly units 18 months ago, and has now introduced three more, all of which can be used by passengers flying with SWISS, Lufthansa, SAS, Austrian Airlines, Brussels Airlines, LOT Polish Airlines and TAP Portugal.
Passengers who have checked in online can proceed straight to a bag drop unit upon arrival at the airport, and those who haven't already checked in can do so at a self-service kiosk before using the self-service bag drop.
Jacques Morgenegg, Project Manager Landside at Geneva Airport, said: "Passengers are demanding technology like Scan&Fly. They want to be in control over their journey and be part of the process. That – together with capacity contraints – is why Geneva Airport installed Scan&Fly 18 months ago. We are very happy with the successful results and the good passenger acceptance."
Although seven Star Alliance carriers can already use the self bag drop system, Morgenegg explained that Geneva Airport now has wider ambitions. "Common use self bag drop is our next aim," he said.