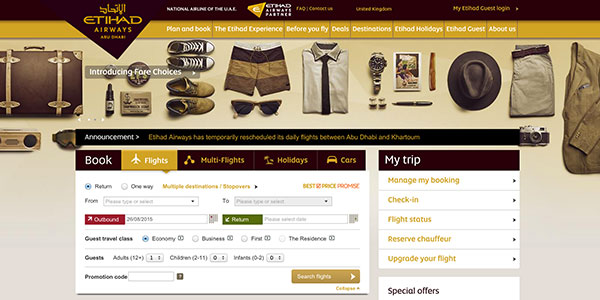 Etihad Airways has introduced a new fare structure, which sees the carrier extensively unbundle its fares by launching eight new fares. The carrier says the launch of "Fare Choices" will provide passengers with more choice and clarity when booking flights.
The Economy Breaking Deals, Economy Saver, Economy Value, Economy Freedom, Business Breaking Deals, Business Saver, Business Freedom and First Class Freedom fares will come into effect on 14 September.
The differences between each of the fares are summarised on the Etihad website, but in essence miles earned, checked baggage allowances, flexibility to make changes to the original booking, cancellation policies and upgrade eligibility vary from one category to another. In the Business Class categories, premium add-ons vary by fare type. For example, if you buy a Business Saver ticket it includes the airline's chauffeur service, whereas a Business Breaking Deals ticket does not.
Frequent flyer points are tied to the respective fare categories. An Economy Breaking Deals ticket earns you Etihad Guest Miles equivalent to 25% of the miles flown, where as an Economy Freedom ticket earns 100% of the miles flown. In Business Class, a Business Breaking Deal ticket earns 115% of miles flown, a Saver ticket earns 130% and a Freedom ticket earns 175%. First Class Freedom tickets earn 250% of miles flown.
Peter Baumgartner, Chief Commercial Officer, Etihad Airways, said: "Ultimately, this is about providing choice. In most industries there is a move towards allowing customers to tailor and customise their experience, and ours is no different.
"When it comes to booking a flight, not everyone's needs are the same. Some guests want to travel light and on a budget, whilst others want to be able to make last-minute travel decisions, carry extra baggage or earn more miles. For example, if a guest wants more flexibility, more luggage, and priority check in, they can select our Economy Freedom Fare Choice."
Etihad has also announced changes to its baggage policy, which it says will see the cost of buying an additional 23kg of baggage reduced by up to 90%, with a further 30% reduction for extra baggage pre-purchased directly with Etihad up to 24 hours before departure.