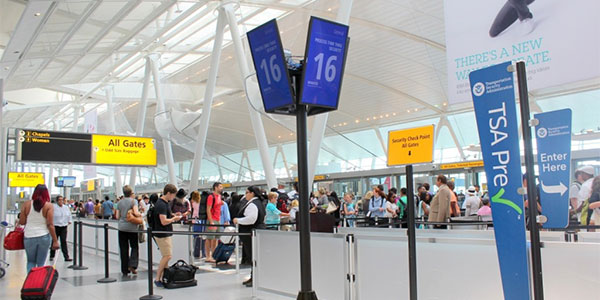 Accurate queuing times are now being displayed across John F. Kennedy International Airport's Terminal 4 to keep passengers updated on how long they will have to wait at key checkpoints.
The Wi-Fi and Bluetooth-based system anonymously tracks passengers' electronic devices and uses the data to calculate the median time taken to pass from the entrance to the exit of the checkpoint. The processing times are being displayed on monitors at the TSA security and Customs and Border Protection checkpoints, as well as the indoor taxi queue.
The system will also be used to notify staff if a certain area in the terminal is becoming congested, so they can identify and deal with bottlenecks before they escalate.
Gert-Jan de Graaff, President and CEO of JFKIAT, the company that operates Terminal 4, said the new system will help ensure passengers enjoy "a more stress-free and efficient travel experience".
"One of our key goals is to reduce the amount of time passengers will be in the queue," he said. "This new system will help us manage and eliminate problem spots within the facility, and sharing the processing time with our travellers will provide them with peace of mind so they may continue to expect a pleasant travel experience."