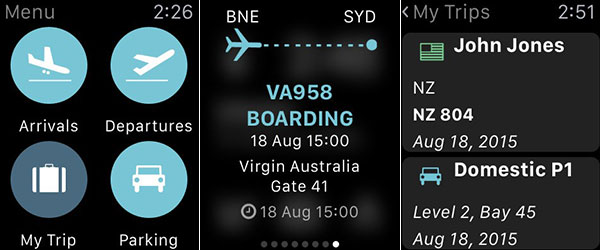 Brisbane Airport has launched a new Apple Watch compatible app as it continues its efforts to improve the passenger experience through digital innovation.
The app makes the Digital Departure Card available to Apple Watch users for the first time. Passengers can also use their Apple Watch to view departing and arriving flight information, track flights, and receive push notifications on flight status and changes, and to access their saved car park location to simplify the arrivals experience when returning to Brisbane.
Roel Hellemons, General Manager of Strategic Planning and Development at Brisbane Airport Corporation (BAC), said: "We are more committed than ever to providing the best passenger experience possible and harnessing these digital technologies drives ease of use for our customers when travelling through Brisbane Airport.
"The updated version of the BNE App continues to provide passengers with essential information at their fingertips and our adaptation into making this app compatible with Apple Watch was an innovative yet natural evolution."