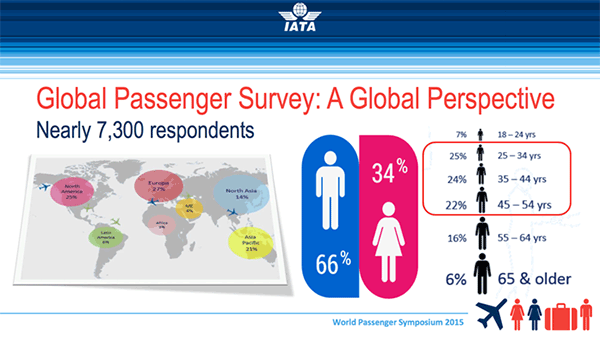 More self-service options, proactive communications from airlines and less time spent queuing at the airport are among the passenger demands that have emerged from IATA's Global Passenger Survey 2015, which explores passenger preferences and frustrations across the end-to-end air travel experience.
Passengers' desires to complete as many processes as possible before they leave home is highlighted by the fact that 90% of the 7,000-plus respondents said they want to be checked-in and know their seat before arriving at the airport. 68% also said they would like their travel documents to be validated pre-travel.
The demand for more proactive communications from airlines is also clear. 93% of those surveyed said they would like to receive proactive communications relating to flight status, 74% would like to receive updates on baggage status and delivery waiting times, and 68% would like to receive notifications relating to regulations, such as visa and customs information. More than 50% identified SMS as their preferred method of communication.
At the airport, 48% of passengers would prefer to tag their own bags and deposit them into the baggage handling system without any agent intervention. 81% would also like to be able to track their bags throughout the journey. Highlighting the pressure on airports to keep queues down at the airport security checkpoint, surveyed passengers stated that a queue of more than 10 minutes at security is no longer acceptable.
The Global Passenger Survey also explores passengers' in-flight preferences. For long-haul services, the top three activities were identified as watching movies or TV (72%), sleeping (70%), and eating and drinking (42%). For short-haul, the top three are reading (51%), watching movies or TV (44%), and eating and drinking (36%).
Interestingly, almost half of North Asian passengers who took part in the survey said they prefer to use their own devices to view content. Meanwhile, 45% of all passengers surveyed said they are willing to pay for Wi-Fi and IFE, 36% would pay for Wi-Fi access alone, 14% would pay for stored media, and 10% would be willing to pay for access to live TV.
On the whole, the findings of the survey should not come as a big surprise to airlines and airports, but they serve as a timely reminder that passenger expectations are rising, and in an increasingly competitive marketplace those who fail to react to these demands risk losing their customers to a competitor that more effectively meets these needs.
Whether it's leveraging smartphone usage to drive proactive interactions, providing a platform for real-time baggage tracking, offering fully automated self-service bag drop or providing IFE on short-haul flights, passengers are demanding a more seamless and enjoyable travel experience, and the pressure is on the airlines to deliver it.