Since the launch by IATA and ACI of the Smart Security initiative in December 2013, a selection of airports and airlines have signed up to partake in trials, each with the aim of identifying ways to strengthen airport security, increase operational efficiency and improve the passenger experience. Trials at the likes of Amsterdam Airport Schiphol, London Heathrow, Gatwick Airport and Geneva Airport have helped to raise the profile of the project, but in order for Smart Security to make a telling difference across the industry, IATA and ACI have maintained from day one that it must receive buy-in across the world.
This aim is on the way to being met, with the likes of Melbourne Airport and Qantas, and Hamad International Airport and Qatar Airways, actively undertaking trials and bringing the initiative to Asia Pacific and the Middle East.
As Guido Peetermans, Smart Security Project Manager at IATA, told FTE, trials at Doha are now underway, while the trial in Melbourne is in full swing and will run until December. "We're very excited to be bringing Smart Security to these parts of the world," Peetermans stated.
While Smart Security encompasses a multitude of elements – including risk-based security, cabin baggage screening solutions, centralised image processing, behaviour analysis, explosive trace detection, and lane design and automation – not every element is being trialled at every airport.
"Our goal is to bring new ideas and connect up the airlines and airports, and the thought leaders," Peetermans explained. "We're gaining a wealth of knowledge from all of these trials, so our job is to translate the lessons learned into guidance material." He said the first version of Smart Security guidance material will soon be issued to a group of airports "to start spreading the knowledge".
Smart Security at Melbourne Airport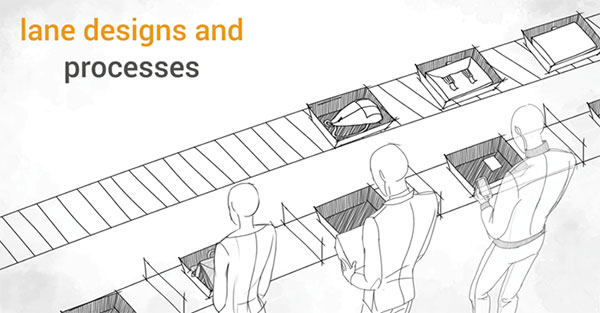 At Melbourne Airport the Smart Security trial is extensive in scope. Centralised image processing is enabling the airport to explore the viability of having screeners remotely analyse x-ray images of carry-on bags and flag up any issues. The automated lane design and integration element includes state of the art lanes with automated tray spacing, controlled diversion of rejected items, touch-screen threat identification, re-check analysis workstations, automatic tray return and multiple detection sensor. One of the integrated passenger screening lanes has been fitted with a parallel divestment solution, and another with a linear loading solution and powered infeed conveyor. Both systems allow more than one passenger to prepare for security at once, and parallel loading has the added benefit of allowing quicker passengers to overtake those who require more time.
At FTE Asia EXPO 2015, which will take place in Singapore from 17-19 November 2015, Melbourne Airport's Travis Jones, Manager Operations Quality Assurance, and Lorie Argus, Executive Operations, will provide more details and share with delegates the lessons learned so far. IATA will also lead workshops on the free to attend Expo Seminar Stage.
Sharing the benefits
The goal of the trial being undertaken by Melbourne Airport and Qantas is multifarious. Improving security outcomes, increasing operational efficiency through better use of resources and infrastructure, and enhancing passenger and staff experiences are among them, as is, importantly, supporting the industry, especially airports in the Asia Pacific region, by sharing the findings and lessons learned.
This ties in with Peetermans' point about the importance of knowledge sharing, and to assist this goal IATA has developed the Smart Security Opportunity Assessment, which will see subject matter experts visit airports in various regions to put all of the findings into context. "We hope this will help to drive the adoption factor and give these airports targeted recommendations," Peetermans said. "We want to bring the lessons learned to airports around the world, and also to continue to do more research and trials."
Considering IATA launched its Checkpoint of the Future initiative back in 2011 (which has evolved to become Smart Security), the project has been a relative slow burner, but with the number of active trials being undertaken on the increase, the initiative is finally gaining the traction it needs to make an industry-wide difference.
"This year I have the sense that it's truly taking off," Peetermans said. He stressed, however, that ambitions will only be achieved if industry stakeholders show a willingness to collaborate. "Smart Security is about security effectiveness, operational efficiency and the passenger experience, so there's something in it for everyone.
"We're satisfied with the forward-thinking organisations that are contributing," he added. "The next steps are to undertake these opportunity assessments, drive uptake and demonstrate the benefits to the wider industry."