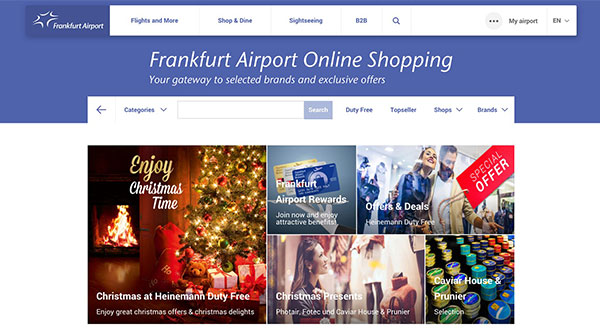 Fraport has launched a new online and app-based shopping service, which could change the way people shop in duty free stores at Frankfurt Airport.
Travellers flying from the German airport can now view and reserve a vast range of products that are available in various airport stores online or via the app before they travel. Any products purchased can then be collected and paid for in the store at the airport, but Fraport has revealed that it next plans to introduce an online payment system and delivery of the products to the departure gates and even passengers' homes, meaning they won't even have to physically visit the airport stores in the future.
The participating partners on the online platform include Gebr. Heinemann, Caviar House & Prunier and PAX Airport Shopping. Fraport said "further airport shops will be added in the coming months", which will create a "digital mirror of Frankfurt Airport's shopping range".
To coincide with the introduction of the new digital shopping service, Fraport has also launched a new "Frankfurt Airport Rewards" loyalty programme, which will allow passengers to exchange points for rewards, such as coupons for further purchases or parking at the airport.
Fraport AG Executive Board Chairman Dr Stefan Schulte said: "With our new shopping and information services, we are offering our passengers tremendous added value…We are improving the quality of stay and taking another step towards meeting our aim of offering top quality service."