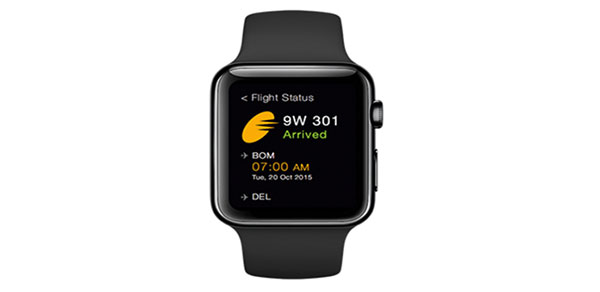 While airline apps for the Apple Watch have become a common feature since the launch of the smartwatch in April 2015, Jet Airways has become the first airline in India to offer an app for the device.
Passengers who already have the carrier's iPhone app can now synchronise it with their Apple Watch, which offers access to various features, such as real-time flight status, alerts for upcoming trips and special offers from the airline.
If a passenger would like to view the status of their flight, they can type in the flight number on their Apple Watch, which brings up the desired information. For further information, they can then tap 'More on iPhone', which automatically opens the flight status page on the iPhone app.
Commenting on the launch of the new Apple Watch app, Gaurang Shetty, Senior Vice President Commercial, Jet Airways, said: "At Jet Airways we constantly endeavour to be in step with evolving developments in technology and communication to enhance the guest experience across touch-points.
"The Jet Airways app for Apple Watch incorporates the latest trends in user experience design, personalisation and technology to provide a unique experience and access to relevant travel information on the go. The app symbolises our continued commitment to our customer focused 'Guest First' service philosophy, which is at the core of our business."