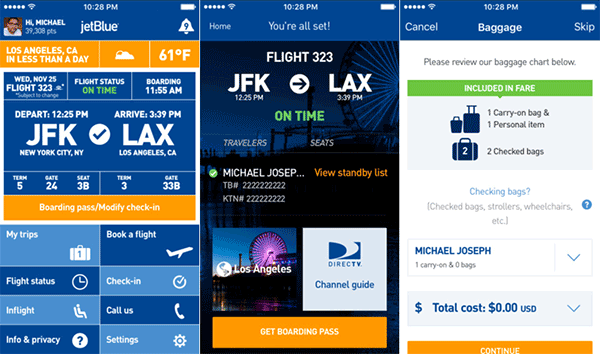 JetBlue has released a new app for iPad and updated apps for iPhone, Apple Watch and Android devices as part of its strategy to improve passengers' digital experience and simplify the travel process.
The new iPad app offers destination guides with content and imagery from each of JetBlue's destinations, and it also includes popular features from the iPhone app, including the Best Fare Finder and Hot Deals features, plus staples such as booking functionality.
The new-look iOS and Android apps also offer customers more control. For instance, passengers can now use the apps to select and change seat assignments after check-in, upgrade to Even More Space seats, and use their smartphone's camera to input credit card and passport information.
Meanwhile, the JetBlue app for Apple Watch now offers flight status and TrueBlue updates, without requiring the user to tap into the app.
Maryssa Miller, Director Digital Commerce, JetBlue, explained that the new-look apps will help bring the digital experience into line with the level of service that passengers expect from flight attendants. "Our enhanced suite of mobile apps brings customers useful features they need, which also frees up our crew members to focus on adding the personal touch that makes the JetBlue experience so special," she added.