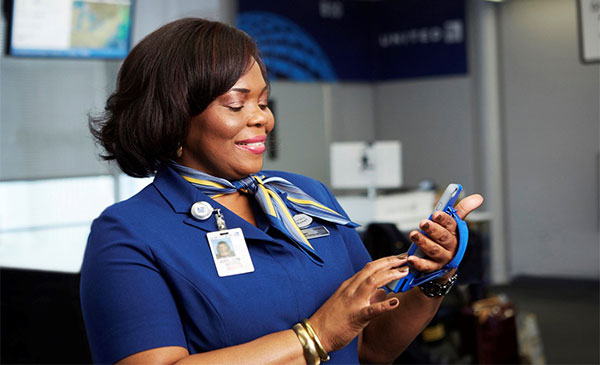 United Airlines will equip more than 6,000 customer service agents in its US hubs with Apple iPhone 6 Plus devices in 2016, as part of a strategy to empower its workforce to provide assistance to passengers on the go.
Agents will be able to use the iPhones to remotely print boarding passes and bag tags for passengers who have already checked in for their flight, and they will also be able to provide customers with alternate flight options if they need to re-book a flight. The airline says it plans to offer full check-in capabilities on the devices in the future.
Jon Roitman, United's Senior Vice President of Airport Operations, said: "Our employees told us they needed better tools to serve our customers, especially during severe weather and busier travel times.
"We have seen great success with the custom-made tools on the iPhone 6 Plus and believe expanding the use of a smartphone device with other applications is a great investment in our employees."
United's rollout of iPhones 6 Plus devices to staff on the ground follows its decision to equip 23,000 flight attendants with iPhone handsets, which was announced almost exactly one year ago.