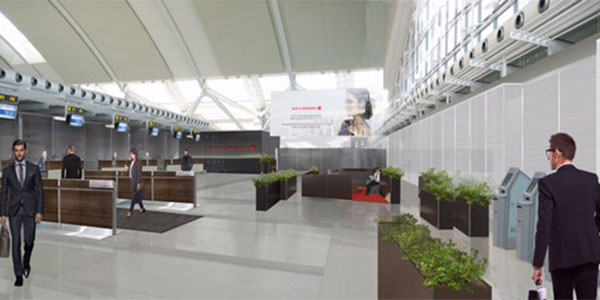 Air Canada has opened a dedicated check-in area for its premium customers at Toronto Pearson International Airport. The Business Class Check-in area is equipped with 15 check-in counters, two customer service desks, two self-service kiosks and a dedicated seating area.
The new check-in zone is open to Air Canada passengers travelling in Business Class or in the Premium Economy or Premium rouge cabins, as well as Altitude Super Elite 100K, Elite 75K and Elite 50K members, plus Star Alliance Gold members. Altitude Super Elite 100K have exclusive access to their own dedicated check-in counters and a concierge office.
Lower tier premium customers – including Altitude Elite 35k and Prestige 25k members – have access to separate Priority Check-in counters in the terminal.
Outlining the thinking behind the introduction of the new premium check-in area, Benjamin Smith, President, Passenger Airlines at Air Canada, said: "Competition for premium traffic is intense and we are responding to the expectations of this market segment for a comfortable and convenient airport experience."
The carrier has also stated that it plans to enhance its priority check-in service for travellers flying from Vancouver, Montreal and Calgary.