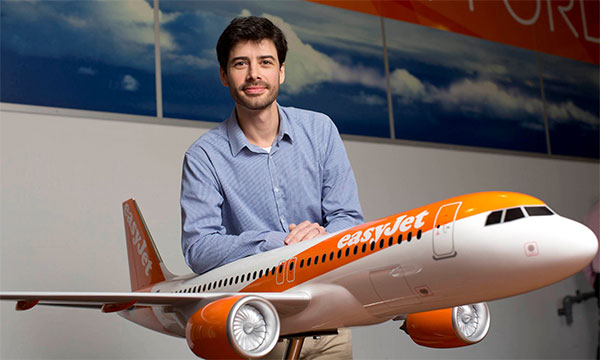 The announcement by easyJet towards the end of 2015 that it had appointed its first Head of Data Science served to highlight the importance of artificial intelligence (AI) to the airline industry. For many, AI brings to mind voice recognition software on smartphones or computers that can outwit human competition when gaming. Beyond this, however, AI has the potential to revolutionise the way businesses operate, and this is certain to have a major impact in the air transport industry.
At easyJet, the man responsible for ensuring the low-cost carrier can make the most of these opportunities is Alberto Rey-Villaverde. When he took up the role two months ago, easyJet CEO Carolyn McCall highlighted the scope of the job in hand and the potential rewards for the airline. "Tapping into the huge potential of AI by accelerating our use of data science right across the airline will improve our efficiency, bring down costs, increase revenue and drive greater customer satisfaction," she stated.
Adding value across the organisation
According to Villaverde, the difference between analytics and AI is that the former has been about diagnostic capability and looking backwards, whereas the latter is focused on predictive capability, which can help organisations better understand and plan for the future.
Speaking to FTE, he said: "AI will be embedded in many organisations within five to 10 years and airlines will also benefit from it. Because of the nature of the business we might be able to implement this type of solution in certain areas, whilst in other cases it might be a bit more difficult.
"I like to think that when we say AI we are talking about a more sophisticated set of algorithms; with the risk of being simplistic, we are trying to go beyond averages. I believe that these tools will be of common use and easily accessible in more or less the near future. The important factor here is how to get those tools today and how we can add value to the different functions across the organisation and for our customers."
Creating a more natural experience
Villaverde suggested one of the key goals is to create seamless experiences by using the technology to better understand customers and their demands. "We think the basic idea here is that when passengers interact with easyJet, being via the website or during their flight, their experience would look and feel both smooth and natural. We have lots of ideas about how that will happen and there are different teams working on those. Advanced analytics capabilities play a crucial role to support those initiatives and this is one of the areas where I will be focusing in my role."
A better understanding of individual customers will naturally create more opportunities to personalise various elements of the travel process. On this front, Villaverde explained that "personalisation needs to sit hand in hand with privacy". "I definitely think this is possible," he added.
Beyond personalisation, easyJet is also exploring other ways in which AI can bring about benefits and Villaverde explained that the increased emphasis on intelligent technology is about complementing, not replacing, the human workforce. "We have already started to implement AI at easyJet and the projected outcome was never to reduce the workforce. It was more about empowering it," he said. "In the same way that spreadsheets have been empowering people across different organisations to do better work for the last 30-odd years, technologies such as AI will play the same role. People will be able to dedicate their time to more complex and sophisticated tasks as they remove things that can be handled by AI. We have seen this in those areas where we have tried it.
"Advanced analytics can also help us to make better decisions when we need to handle disruptive events such as adverse weather, air traffic control strikes, predictive maintenance or a better in-flight offering. On top of that, easyJet is a growing organisation and we hope that AI will allow us to continue growing."
Like many other organisations, airlines are very much in the early stages of trying to properly understand how AI can be integrated into their business, but Villaverde pointed out the successful use of complex reservations systems and pricing algorithms over the years as evidence of carriers' solid track record of exploiting new technologies. He also stressed, however, that this "early adoption brings the issue of legacy systems and how to adapt those to the new ways of buying flights and the new expectations from the customer side".
Of course, there will be obstacles to overcome along the way, but Villaverde and his team are keenly embracing the challenge.