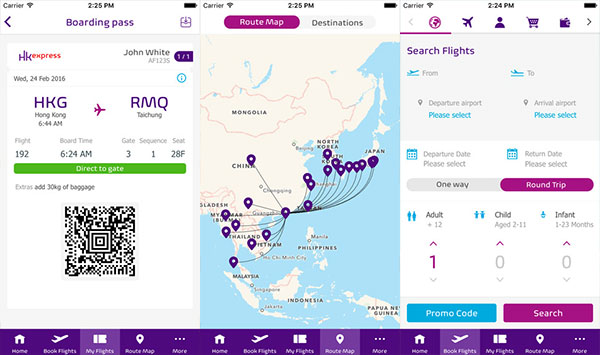 Low-cost carrier HK Express has launched its first mobile app, which helps to simplify the airport experience for transfer passengers.
The airline's U-Connect service allows passengers with a connecting flight in Hong Kong to clear customs and check-in their hold luggage at the first departure point for the whole journey, removing the need to clear customs or visit baggage reclaim at Hong Kong International Airport.
The new mobile app allows passengers to check-in and download boarding passes for both flights, meaning they don't have to collect their second boarding pass from a transfer desk in between flights.
The app, available for both iOS and Android devices, also offers various other features, such as route map information, flight booking functionality and a seat upgrade tool.
Andrew Cowen, CEO of HK Express, said: '"Hongkongers are always on the go and appreciate an airline that moves as fast as they do. We are determined to keep up with our guests and continue to innovate our online and mobile services to cater to their needs."