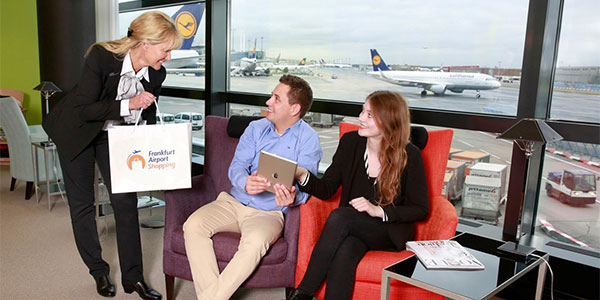 Lufthansa and Fraport, the operator of Frankfurt Airport, have teamed up to offer a range of joint, digital-enabled retail services.
Among them is the "Lounge Shopping" service, which allows passengers to use an iPad to browse and purchase items from the airport's duty free and travel retail stores, and have them delivered to the lounge within 30 minutes. Initially, passengers are able to purchase a limited range of exclusive items, but the product range will be gradually expanded.
The second service is the "Inflight Shopping" service. This will enable Lufthansa passengers en-route to Frankfurt to order items from the airport stores during their flight and collect them at the arrival gate when they land.
In addition, the two companies have introduced a "Taste & Travel" gourmet service in response to the trend of passengers ordering food and beverage (F&B) items for delivery to the gate. While many other F&B ordering services allow passengers to place orders via their own device, in this instance iPads will be placed in the check-in area and near the security checkpoints and passengers will be able to use them to order food and drinks to be delivered to their departure gate.
When contacted by FTE, a Fraport spokesperson declined to comment on how revenues earned from these services will be split between the airport operator and airline, but explained that both parties are using the launch of the new services to learn how passengers will respond to the different digital retail options.