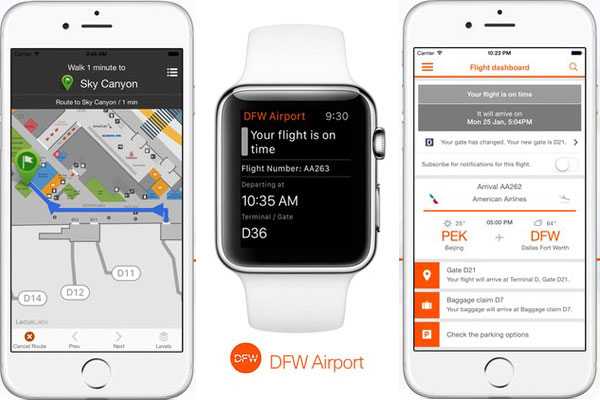 Dallas/Fort Worth (DFW) International Airport has become the first US airport to offer an Apple Watch app, which has been launched to coincide with the introduction of an updated smartphone app for iOS and Android devices. The Apple Watch app allows travellers to view flight information and notifications on their smartwatch once it has been synched with the mobile app.
To make the mobile app more accessible, support for six new languages has been added. Previously available in English only, the app now also supports Korean, Portuguese, Japanese, Spanish, Simplified Chinese and Traditional Chinese-speaking travellers.
Other key features on the mobile app include wayfinding functionalities, interactive maps, personalised flight information, news and weather alerts on the home screen, an enhanced flight search tool, and easy access to DFW's social media channels. Passengers who have driven to the airport can also use the app to save their exact car park location using GPS.
Sean Donohue, Chief Executive Officer, DFW Airport, said: "More than 90% of DFW passengers are carrying smartphones and want information regarding their travel instantly. The DFW Mobile App and our new Apple Watch app allow us to provide customers real-time information tailored to their particular journey, and another example of how we are leveraging the use of technology to provide an overall customer experience that is warm, welcoming and efficient."