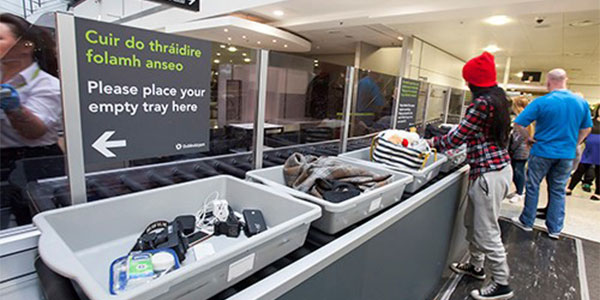 Dublin Airport has taken steps to improve passenger flow and reduce queuing times at the security screening checkpoint in Terminal 1, and five new automatic tray return systems (ATRS) are now in operation.
Delivered as part of a €15 million investment in modernising the departures floor and security screening area, the ATRS machines are six metres longer than the previous machines, providing space to add a parallel loading area at the start of each lane. This provides extra preparation space, so up to four people can load trays at the same time. A further 10 new ATRS machines will be in place by the end of May.
"We understand the security screening process can be a stressful element of the departing journey and we are constantly looking at ways to improve that area in particular," said Vincent Harrison, Managing Director of Dublin Airport.
"We are confident the new ATRS machines, which are much quieter and more efficient, will improve the overall ambience of the area giving our customers a better experience."
The ongoing €15 million terminal investment has also seen airline ticket desks moved away from windows to allow more natural light to flood the check-in area, while a new façade on the walls has helped to freshen up the appearance of the terminal, which opened more than four decades ago.