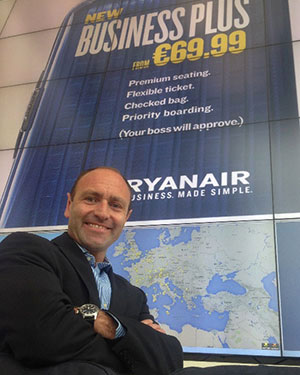 As Ryanair's "Always Getting Better" customer service transformation strategy approaches its third year, the low-cost carrier has outlined the key areas that it will focus on over the next 12 months. The new initiatives cover various elements of the customer experience, touching on service, digital and in-flight developments.
Some of the key areas of focus for Year 3 of the "Always Getting Better" programme are a new "Leisure Plus" bundle fare, including reserved seats, priority boarding and a 20kg bag allowance; an improved "Business Plus" service with more flexible ticketing, more fast track locations and auto check-in; and travel "Extras" bookable in the mobile app, such as seat upgrades, fast track purchases and parking. A so-called "one flick" payment system will also be added to the app to simplify mobile payments.
The new auto check-in feature – plus auto mobile boarding passes – will be available for reserved seat bookings made through My Ryanair. My Ryanair Club members will also have 24-hour priority access to seat sales.
In addition, a "Rate my flight" function will be added to the mobile app, enabling passengers to provide real-time feedback on crew and flights, while baggage options will be simplified and destination guides will be added to the website, app and emails. The airline will also offer passengers event and restaurant discount codes.
New aircraft interiors featuring slimline seats, more leg room, coat hooks, LED lighting and less of the bright yellow branding will continue to be rolled out. The carrier has also made a point of stating that it will pass on lower oil cost savings to its customers.
Ryanair's Chief Marketing Officer, Kenny Jacobs, said: "The continued drive to improve our customer experience has been reflected in the record passenger numbers and load factors we have had over the past two years, and we are pleased to launch Year 3 of our "Always Getting Better" programme. While Year 1 and 2 were about fixing the areas customers didn't like and improving the existing offering, Year 3 will be about digital acceleration and innovation, particularly through our Ryanair Labs digital developments."