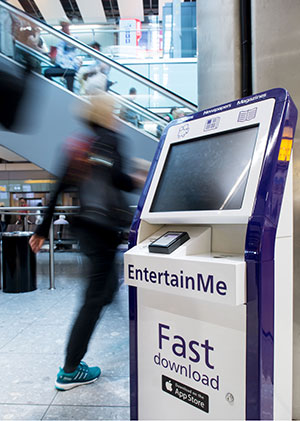 Travellers flying from Heathrow Airport's Terminal 5 this summer will be able to download movies, magazines, newspapers and destination video guides to their iPhones or iPads using new media kiosks.
The Heathrow EntertainMe kiosks will host a variety of free and paid content and will be located at gate level in each of the three Terminal 5 satellites during the initial trial period. SITA, which has developed the kiosk alongside its partners Orange Business Services and Adaptive Channel, says downloads will only take around one minute each.
Passengers can simply select their content on an interactive screen and pay via ApplePay or with their contactless credit or debit card. Once they have downloaded the content, passengers can enjoy it during their trip without needing access to Wi-Fi or data services.
Roberto Segala, Heathrow's Head of Commercial Services, said: "We are constantly looking to enhance the travel experience for passengers at Heathrow and these new EntertainMe kiosks designed by SITA will provide a unique entertainment solution for our customers.
"The initial trial will take place in Heathrow's iconic Terminal 5, which serves more than 30 million passengers a year. We are very excited about this newest addition to Heathrow and look forward to seeing our customers' reaction to this innovative product."
Dan Ebbinghaus, Senior Vice President, Communication and Infrastructure Solutions, SITA, added: "We know passengers want access to the latest entertainment on their mobile devices and Heathrow's EntertainMe kiosks make that quick and easy. Passengers get the content in seconds and can then access it without needing, or paying for, any data connection."