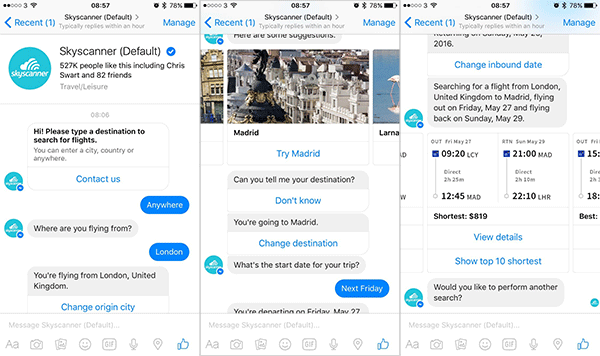 Travel search engine Skyscanner has launched a Facebook Messenger bot, which can interact with people in a conversational manner. As FTE recently reported, bots provide companies with the ability to pro-actively converse with consumers, presenting them with the opportunity to offer automated but natural, human-like conversation with potential customers.
Skyscanner's adoption of the technology will allow users to interact with the bot to ask for live flight prices. The flight search bot responds with answers immediately and the user can then follow a link to Skyscanner's website to book their chosen itinerary.
If a passenger is searching for travel information, they can simply type "not sure" when asked where they would like to go and suggestions will appear based on user search trends and pricing.
Filip Filipov, Director, Skyscanner, said: "The messaging economy and conversational search are areas which we believe are incredibly important evolutionary features for the travel industry. It has been a top priority for us to take a pioneering approach when it comes to building a bot for the Messenger Platform.
"We want to make travel search as easily accessible as possible, and believe that the launch of our Messenger bot will allow more people to search for their travel in a fun and informative way."